She was supposed to walk free in about seven months, when she would have completed her 22-month sentence for grand theft.
However, on Oct. 1, Florida Lowell Correctional Institution inmate Latandra Ellington was found dead in her cell in solitary confinement, according to the Miami Herald.
According to the report, Ellington, 36, had written a letter to her aunt on Sept. 21, detailing how she feared for her life in the face of a "Sgt. Q," who had threated to beat and kill her.
"He was gone [sic] beat me to death and mess me like a dog,'' the mother of four wrote. "He was all in my face Sqt. Q then he grab his radio and said he was gone bust me in my head with it … ''
G/O Media may get a commission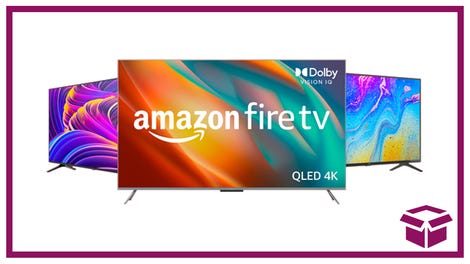 Ooh. stunning.
New Amazon Fire TVs
Another letter followed on Sept. 30, in which Ellington reportedly described how Sgt. Q always turned his badge around so that she couldn't see his name, and repeatedly threatened to "beat the s—t" out of her, according to the Herald.
"Auntie, no one knows how to spell or say this man's name,'' Ellington wrote about the guard in her last letter to her aunt, the news site reported. "But he goes by Sgt. Q and he works the B Shift a.m. So please call up here.''
And so, Algerine Jennings, fearing for her niece's life, reported the incident. Jennings said she spoke to someone who went by the name of Major Patterson, and was told that her niece would be looked after. Apparently Ellington was present, since Jennings said she heard her in the background, the Herald notes.
However, no more than 24 hours later, the family got a call reporting Ellington's death. The institution, having taken the family's concerns "seriously," had reportedly moved Ellington to solitary confinement, correction officials confirmed.
The family is still searching for answers as to what happened to the beloved mother. They hired a lawyer and have paid for a private autopsy, according to the news site. According to that autopsy, Ellington suffered blunt-force trauma to her stomach, consistent with being kicked and punched.
Now the family is hoping for a federal investigation.
"It's not right that these four children would lose their mom,'' civil rights attorney Daryl Parks, representing the family, said. "While the trail is very fresh, we believe a federal investigation is warranted."
Parks, along with the state's NAACP, has written to Attorney General Eric Holder, voicing concern over the possibility that evidence "will be lost or destroyed" and expressing a lack of trust that local or state officials will conduct an impartial investigation.
"She was not sentenced to the death sentence, and the Department of Corrections certainly owed her far greater protection,'' Parks added.
According to the Herald, there is only one male sergeant listed at the prison on the Department of Corrections records whose last name begins with Q.
This is not the first time that Florida's prison system has been put under scrutiny. According to the Herald, Ellington's case now makes up one of almost 200 ongoing state prison death investigations with the Florida Department of Law Enforcement.
"Death, abuse and official misconduct is rampant in Florida's criminal-justice system, and nowhere is it more pervasive than in our law-enforcement and correction agencies,'' Vice President of the Florida NAACP Dale Landry told the Herald. "For over 14 years, and especially the last four, Floridians have watched this tyranny grow."
Read more at the Miami Herald.