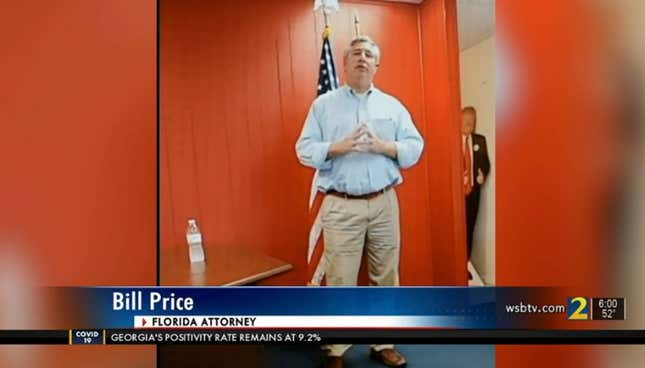 A Republican Florida attorney is under investigation for allegedly registering to vote in Georgia while being a Florida resident and instructing other voters to do the same.
Small Town Horror Story: The Vietnam Veteran Who Refused To Leave A Man Behind
A reporter for WSB-TV 2, Nicole Carr, recorded a nearly hourlong video that showed attorney Bill Price speaking to Bay County GOP members in Florida on Nov. 7. Video footage of the event was posted to Facebook Live, but it was later deleted.

According to Channel 2, Price began his speech by dropping a truth bomb on gullible morons who are still holding onto hope that Trump's ongoing (and on-failing) legal challenges will somehow change the election results and see him to another four years in the White House.

"I'd love to tell you that there are legal avenues for success in the courts, but as a realist and as a lawyer myself, I know that that's just not going to happen," he said.

And that's when the attorney appeared to instruct his audience to do something illegal AF ahead of Georgia's Senate runoff election on Jan. 5.

"We absolutely have to hold the Senate and we have to start fighting back, and we have to do whatever it takes," Price said in the video. "And if that means changing your address for the next two months, so be it. I'm doing that. I'm moving to Georgia and I'm gonna fight and I want you all to fight with me."

From WSB-TV:

Price told the group he's moving to his brother's address in Hiram, Georgia in order to register to vote in the January runoff. He repeats and spells and his brother's name and address, as members of the group jot it down. They can be heard mumbling the address in the background while some write.

"We can truly register at that address?" one woman asks.

"Sure," Price answers, adding they have to plan to show a move, suggesting they have mail sent there.

"And can it be anywhere in the state of Georgia you can register?" another woman asks. "So if you've got cousins, dogs, cats that live somewhere else, it doesn't need to be one particular county?"

"Yep," Price answers. "This is going to be a statewide election on Jan. 5th. I'm gonna be voting for Kelly Loeffler?" (In the recording, his voice indicates a question, as he mispronounces the senator's last name). "And David Perdue."

One woman also asks about the deadline to register in Georgia. Price said he's unsure, would have to check, but offers advice on how to get it done online.

"It can be done online or you can request your ballot at your new address in Georgia by mail," Price said. You just go to the secretary of state's website for the state of Georgia and register to vote there."

"If they need a driver's license, I'm going to get a driver's license," he said. "If they need mail, I'm going to have mail there."
Meanwhile, Georgia Secretary of State Brad Raffensperger (R) announced Monday he was opening an investigation into third-party voting groups that are allegedly calling for non-Georgia residents to register in the state to vote in the runoff, The Hill reports.

"We have opened an investigation into a group called America Votes, who is sending absentee ballot applications to people at addresses where they have not lived since 1994," Raffensperger said during the news conference.

Hopefully, Price was watching that news conference, because Raffensperger also confirmed that "voting in Georgia when you are not a resident of Georgia is a felony."

According to WMBB 13, Raffensperger's office released a statement saying, "Secretary Raffensperger has made it clear he has no tolerance for election wrongdoing and will investigate any credible evidence of it. Only permanent residents are eligible to vote in Georgia. Registering without the intention of permanent residency is a felony."

But not to worry: Price claims it was all a joke and he's not actually a criminal trying to inspire would-be criminals to fight make-believe voter fraud by committing actual voter fraud.

"I'm not encouraging anybody to commit fraud, and I was kidding. Anything that I said if it's taken out of context or even if it's taken within context, it was still a joke," Price said, WMBB reports. "I'm not moving anywhere, I haven't changed my voter registration, I'm not intending to change my voter registration, I'm not telling anyone else to do it in any other way other than a legal way."

So basically, Price is claiming his speech—in which he gave out specific instructions and a specific name and address, and engaged in a Q&A session where he repeated his instructions without a hint of humorous tone—was actually an interactive standup comedy routine. (To be fair, this would confirm my long-held stance that conservative comedians don't know shit about comedy. I'm looking at you, Dennis Miller.)

Then—because Price figured he hadn't climbed high enough up Mt. Caucasity—the attorney claimed people only took him seriously because he's a face-up-Trump's-ass enthusiast.

"I know exactly why they took them seriously," Price continued. "It's because I support Donald Trump. I support our President and I'm the only guy talking about it. Nobody's saying anything they're letting that guy fight this whole thing on his own."

For the record: Despite Price's claims that he was just telling the weirdest, most elaborate joke ever, Channel 2 confirmed that he registered to vote in Georgia the day after he made his speech, used his brother's Hiram address like he said he would and even signed an affidavit saying that he was a Georgia resident and eligible to vote.