David Sanguesa, 53, accused a Starbucks barista of purposely not serving him because he voted for Donald Trump and is white, the New York Daily News reports.
In a video posted to Twitter, Sanguesa can be seen pacing the Starbucks back and forth because the black female barista was not getting his drink fast enough.
"Just give me my money back; I want nothing to do with you," Sanguesa, 53, yells at her before continuing with insults such as "trash" and "garbage."
According to the Daily News, another customer intervened and told him not to talk to people that way, to which Sanguesa responded, "Don't tell me what to do. She did discrimination of race."
Sanguesa reportedly apologized and claimed that he not only was having a bad day but also suffered from mental illness and was off his meds.
G/O Media may get a commission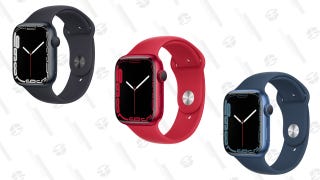 Up To $45 Off
Apple Watch Series 7
However, he later resurfaced, saying, "My attorneys want to file a lawsuit. No one saw the first part of the video. I was completely done wrong. I was racially discriminated against."
See video below:

Read more at the New York Daily News.