I know it's important not to be wasteful, and to teach small children the importance of not being wasteful, but not putting toilet paper in school bathroom stalls and instead handing out wads of paper to students on an as-needed basis seems like some next-level anxiety-inducing shit, no pun intended.

One Jacksonville, Fla., elementary school came under scrutiny for doing exactly that after a concerned parent voiced concerns not only about the embarrassment of such a scenario but also questioning the sanitary practices.
"You can't just have [toilet tissue] going from hand to hand," Shantia Peterson, whose daughter attended the Carter G. Woodson Elementary School, told Action News Jax.
Peterson said that she took her concerns to school officials and that she was told there was a student on hand to make sure that if students using the bathroom needed extra tissue, they would get it.
"I did speak with the teacher about it, as well. And I asked, I said, 'What about if they run out?' She said, 'Well, we have a student in the bathroom that can give them extra.' A student? A student!" Peterson said in shock.
G/O Media may get a commission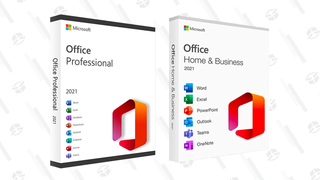 89% off
Microsoft Office Professional 2021 Lifetime License
Peterson said that she became so concerned for her daughter, she ended up sending the fourth-grader to school with a toilet paper roll in a Ziploc bag.
Duval County Public Schools spokesperson Laureen Ricks said that the elementary school was advised against withholding toilet paper from the bathroom stalls and that as of Friday, the bathrooms were fully equipped with actual toilet paper rolls.
"The practice of not keeping toilet paper in school restrooms—as a result of misuse or waste—is not encouraged by the district. We will continue to communicate this to our schools to ensure consistency districtwide. We invite parents to contact their school or the district if they have any concerns about this practice taking place in their child's classroom or school so that we can immediately address. We also ask parents to partner with us in talking to students about appropriate bathroom etiquette and the importance of respecting school supplies and resources," Ricks said in a statement.
However, Peterson recently moved her daughter to another school, and the little fourth-grader was actually excited at the prospect about being able to use the bathroom without carting around her own paper, or worrying about whether there would be any in the stalls.
"I told her, I said, 'Your new school, they're going to have toilet paper in the bathrooms.' My daughter got excited. She said, 'What, are you serious? They're going to have toilet paper in the bathroom?'" said Peterson.
Read more at Action News Jax.