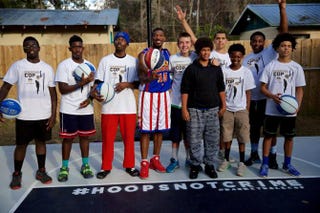 Gainesville, Fla., Police Officer Bobby White isn't done with his good deeds yet. 
The officer first caught national attention when he responded to a noise complaint about neighborhood kids playing basketball outside by joining their game instead of reprimanding them. The dash-cam video of him playing around with the kids went viral, along with the hashtag #HoopsNotCrime. 
The random kind act got the attention of NBA star Shaquille O'Neal, who then joined the kids in a game of pickup basketball and arranged for them to go to an Orlando Magic game, USA Today notes. 
Most recently, according to USA Today, White surprised the original group of kids with a brand-new backyard basketball court, topped with a surprise visit by Harlem Globetrotter Buckets Blakes.
Officer White had previously got the idea to start a foundation, the Basketball Cop Foundation, collecting donated basketballs and portable hoops for neighborhood kids. Through the foundation, he's already donated hoops and basketballs to some kids, as well as a brand-new portable hoop to a family that lost all of their Christmas presents this past Christmas Eve. 
"We identify a place where basketball can be a tool and a resource for neighborhood youth, and your donations help fund it," White said of his foundation.
Read more at USA Today.