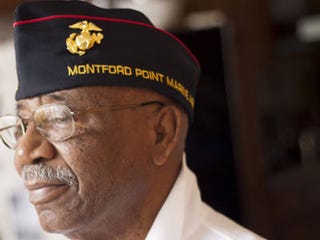 First black Marines finally honored: This week, the House of Representatives unanimously approved a Congressional Gold Medal honoring the Montford Point Marines — black servicemembers who attended a segregated boot camp. A similar bill is pending in the Senate.
ABC to turn "Why You're Not Married" into sitcom:  Tracy McMillan's letter to single women on the Huffington Post? The one some described as a "woman bashing, click-bait manifesto," and other as a "brutally honest look at love"? If you missed it, you can now see its embodiment on the small screen: ABC is using it as the inspiration for a sitcom. 
Black woman in Seattle speaks out about street harassment: In a piece for ColorLines, Sonita Moss reflects on the fact that she's young and black and doesn't feel safe on the streets of Seattle because of sexual harassment.
Why do dictators hoard so much crazy stuff? Foreign Policy unpacks autocrats' penchant for collection everything from tacky erotic art to fast cars to fancy weapons.
Controller who misdirected Michelle Obama's plane made other mistakes: A veteran air-traffic controller who directed Michelle Obama's plane into the potentially dangerous turbulence of a massive military jet this year also made a mistake that nearly caused a midair collision involving a U.S. congressman last year, the Washington Post reports.
In other news: VIDEO: Qaddafi's Weird Crush on Condi.