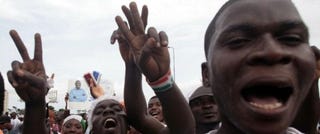 Reuters reports that clashes increased today in Abidjan, Ivory Coast, as troops loyal to Laurent Gbagbo fought off attacks by forces supporting Alassane Ouattara's rival claim to the presidency.
Gbagbo has refused to step down since a Nov. 28 election that U.N.-certified results showed he lost. The African Union, France, the United States and U.N. Secretary General Ban Ki-moon called on him to do so immediately.
The most intense fighting today surrounded the country's state-run television station, which went off the air after it was attacked by pro-Ouattara forces over Thursday night, but resumed broadcasting pro-Gbagbo footage late Friday.
"We can hear shooting and see soldiers moving, but there are also armed civilians running in the streets," Camara Arnold, a resident of Cocody, the neighborhood that is home to the state television building and Gbagbo's residence, told Reuters.
Forces supporting Ouattara, recognized as winner of the November election by African nations and Western powers, marched into Abidjan on Thursday, but they now face Gbagbo's most reliable fighters, the roughly 2,500-member elite Republican Guard.
U.N. peacekeepers killed at least five soldiers loyal to Gbagbo during a battle in Abidjan, and three peacekeepers were injured in a separate incident, according to an internal U.N. document seen by Reuters on Friday.
Doctors Without Borders said it had treated at least 80 people — most of them suffering from gunshot wounds — over the past two days. Official figures are unavailable.
Read more at Reuters.
In other news: CBC Chair on Black Unemployment Numbers: No Investment, No Recovery.
Like The Root on Facebook. Follow us on Twitter.