It's happened again. A video of teens fighting has gone viral. This time, police officials say the two girls met online and arranged to fight. The video, which one girl posted on Facebook, shows their meeting blow by blow, including one girl banging the other's head against the ground. What may be more disturbing are the congratulatory posts by classmates and other "friends" on the Facebook page of one of the girls
As I watched this video, I was instantly reminded of recent episodes of Bravo's The Real Housewives series and VH1's Basketball Wives. These shows routinely show women angrily using profanity and physical violence as a means of conflict resolution. 
And because I am a black woman, I am extremely bothered when this type of behavior is displayed by black women, especially those who are well into their 30s or older. Despite the fact that one of us is now living in the White House and another just launched her own network, many around the world still see us as angry, short-tempered, immature and unsophisticated. Did you see that Pepsi Super Bowl ad?
While the world is watching and labeling us, far too many of our younger sisters are taking in the same images and defining themselves. 
Journalist and author Sophia Nelson says the situation may be worse than we think. In her upcoming book, Black Woman Redefined: Dispelling Myths and Discovering Fulfillment in the Age of Michelle Obama, Nelson reveals the results of a study she conducted on black women and conflict resolution. What she found was that an alarming number of women ages 18-25 — either in college or recent graduates — use anger and violence to resolve their issues with each other.
G/O Media may get a commission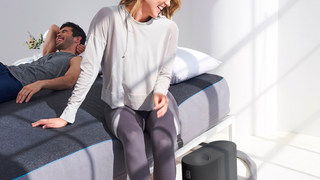 Eight Sleep Pod Cover
"They take honor in calling themselves thugs and gangsters," Nelson says. "They have no problem using profanity or even going to blows with other women. Their mentality is that this is acceptable."
Nelson blames not only confrontational reality shows but also the black women who watch and contribute to their overwhelming success. "What is most dangerous is the level of acceptance … that this is who we are … angry and violent," she says. "So we accept that this is OK. We even think it's funny."
And while black women are accepting it, everyone else is demanding it, like spectators eager to see blood at an ancient Roman gladiator death match.
Look no further than recent headlines about Donald Trump's newest season of The Celebrity Apprentice, airing this Sunday on NBC. Promos show a number of out-of-control moments by participating celebrities. But the conflict making mainstream headlines is the one between Star Jones, formerly of The View, and NeNe Leakes, of The Real Housewives of Atlanta.
This may be the Donald's biggest season of Apprentice yet.
As for the show that made NeNe Leakes a celebrity, The Real Housewives of Atlanta broke a ratings record with almost 3 million viewers per episode on Bravo this season, making it the highest rated of the Housewives series. Those viewers aren't all black people. Even Demi Moore and her husband, Ashton Kutcher, have admitted to being hooked on The Real Housewives of Atlanta.
Nelson says that it is time for black women to redefine our image. "This is not who we are," she says. "We are not dealing with our own reality."
Meanwhile, as reality TV ratings soar, too many of our young girls can't even grasp the concept of "ladylike" behavior. They struggle to respect each other and themselves. And how can we as adult women step in and lecture these girls on aggressive behavior, when we embrace that very behavior on television on a regular basis? Why in the world should they listen to us?
Jacque Reid is a broadcast journalist and a contributing editor to The Root. Listen to her biweekly on The Tom Joyner Morning Show, visit her at jacquereid.com and follow her on Twitter.