Burlyce Sherrell Logan got her diploma today, at age 73, 55 years after she entered the University of North Texas. She's never forgotten the chilling words of the university's president that September 1956.
From the New York Times piece by Tamar Lewin:
" 'There are some people here — you know who you are — that we don't want here, but the state says can be here,' " she recalled the president telling the class of 2,155, clearly referring to her and the dozen other African Americans among them. "He said we couldn't eat in the cafeteria, we couldn't live on campus. They set up a little area, with a little television, for us to be in when we weren't in class."
Beyoncé's Feminist Anthem "Run the World (Girls)" A Decade Later
That was in 1956. What followed were two brutal years in which, Ms. Logan said, people threw rocks at her, pushed her in front of a moving car and burned a cross on the lawn of the house where she and five others boarded.
"One day I was walking across campus, going to another building, and I saw a bunch of placards out," she said. "I thought someone was going for office." She recalled that she started reading the signs and they said, " 'Jungle bunnies go home,' 'Africans go home,' 'Burrheads go home.' And I was totally shocked, but I had noticed there were a bunch of kids ganging up behind me. And I don't know what made me do this, but I just started knee-slapping laughing, and I couldn't stop. I think they think I went crazy, and they all ran away."
Her story is a reminder that among us walk a dwindling number of people who paid the price to break down racial barriers in this country. In addition to the famous ones who were killed or beaten and/or ended up in jail, thousands of ordinary black people paid in other ways: They lost their jobs, they were forced to move to another part of the country — their lives changed direction under pressure. More African Americans failed than should have, and more triumphed than we dared hope.
G/O Media may get a commission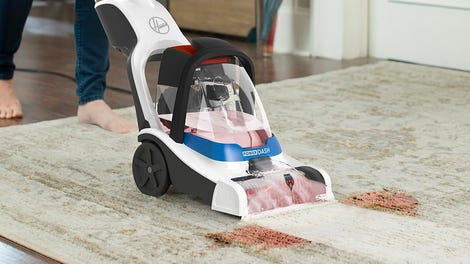 26% Off
Hoover PowerDash Pet Compact Carpet Cleaner
Lewin called Logan's much delayed triumph "another act of closure." I wonder if some are in too much of a hurry to close the door on past injustice without exploring the history first. At a time when there is a disturbing rumble about race under the surface of so many of our discussions, we need to hear the survivors' tales. America has changed since 1956, or even 1976. It wouldn't hurt to remind America of the enormous psychic and emotional price that African Americans paid simply to exercise their rights.
Bravo, Mrs. Logan.
Read the rest of the article at the New York Times.
In other news: Shirley Sherrod to Return to the USDA.