Does a Picture From Capitol Hill Tell the Story?
A photo in the Washington Post on Thursday showing reporters outside the office of House Speaker John Boehner Tuesday night seemed to confirm what some suspected about the coverage of the partial federal government shutdown that ended Thursday: Journalists of color were scarce when it came to reporting the developments from Congress, the center of the action.
In some ways, that should come as no surprise. In 2004, when Unity: Journalists of Color was a vigorous coalition of black, Hispanic, Asian American and Native American journalists, it produced a study that reported, "Less than 10.5 percent of the reporters, correspondents, columnists, editors and bureau chiefs in the Washington daily newspaper press corps are journalists of color — 60 out of 574."
That was before the recession hit, competition from the Internet cut back the number of Washington-based reporters and diversity became an even lesser priority at news organizations.
Distance from the action might help to explain why so few journalists of color were part of the television and radio talk-show discussions on the shutdown.
Still, some were close to the center of the storm, and coincidentally, many of them have ties to the journalist of color associations.
G/O Media may get a commission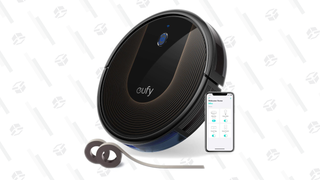 48% Off
Eufy BoostIQ RoboVac
Catalina Camia, On Politics community leader at USA Today and a former president of Unity and of the Asian American Journalists Association, filed several stories for her newspaper. So did her colleague, Aamer Madhani, particularly about the impact on national parks. "Aamer covers the White House and wrote shutdown-related stories on President Obama and the administration," Camia told Journal-isms.
William Douglas of the McClatchy Washington Bureau messaged, "I did indeed cover the shutdown non-stop for about a month. I'm now resting and getting re-acquainted with my family." Douglas, a black journalist, was part of the McClatchy bureau's team coverage.
Native journalist Rob Capriccioso told Journal-isms, "I did several pieces for Indian Country Today Media Network based from D.C. on how the shutdown impacted Native Americans from a policy and political perspective." Capriccioso listed six stories, both breaking news and enterprise, to illustrate his point.
"Jim Avila (Senior National Correspondent for ABC News) was part of our team in DC covering the shutdown," an ABC News spokeswoman said. CBS News, NBC News, Fox News Channel and CNN did not respond when asked about the participation of journalists of color, though CNN's Joe Johns, a longtime Capitol Hill correspondent, went to Boehner's home district to see how his constituents were reacting to the shutdown.
Seung-Min Kim of Politico, who is also president of the Washington chapter of AAJA, said, "from my team alone (the congressional reporting team at Politico), we have me, Manu Raju and Ginger Gibson (she is half Hispanic)." In addition, Scott Wong another AAJA member, works from Capitol Hill and writes Politico's morning congressional newsletter, "The Huddle."
Darlene Superville of the Associated Press, a White House correspondent who is active in the Washington Association of Black Journalists, covered the shutdown from the president's vantage point.  So did Kristen Welker, an NBC News White House correspondent and a black journalist, and David Nakamura of the Washington Post, a member of the paper's White House team who is Asian American.
Joe Davidson of the Washington Post, a co-founder of the National Association of Black Journalists, followed the impact on federal employees for his "Federal Diary" column.
This list is not meant to be exhaustive. It does not include photographers, for example, and as Seung-Min Kim said, "With so many journalists on the Hill during this time (and varying numbers on a day-to-day basis), it would be really hard to tell" how many journalists of color were present.
Additionally, not all of the action was on Capitol Hill. Others covered the effects of the shutdown in communities across the country, in the immediate Washington area or handled the story as columnists, talk-show hosts, commentators — even as editors in the newsroom.
A piece by Farah Ahmad of the Center for American Progress on Day 10 of the shutdown indicated that while journalists of color were underrepresented in the reporting on the shutdown, their communities might have been overrepresented in feeling its effects.
"Federal employment has traditionally been considered a secure form of employment, one that affords a sense of security to those who choose to become public servants," Ahmad wrote.
"Most government jobs have good pay and benefits, which can be a good foundation for middle-class incomes; therefore, any loss of government jobs can have a disproportionate effect on the middle class. This is particularly true for African Americans and other people of color, who, after the civil rights gains of the 1960s, saw that public service employment opened up economic opportunities for good, well-paid jobs that provide some measure of protection against discrimination. The competitive pay scales of government employment have lifted generations of black people into the middle class.
"While a lot of press attention has been focused on what services the furlough has cut off, there has not been as much attention on who is being affected — particularly in communities of color.
"Who are these furloughed employees? Data from the U.S. Office of Personnel Management show there may be up to 150,000 African American, 70,000 Hispanic, and 47,000 Asian American federal employees who have been furloughed. . . . African Americans may be disproportionately affected by the furlough, as government jobs have been more available to them than jobs in the private sector. African Americans hold about 18 percent . . . of federal civilian jobs, while making up around 13 percent of the U.S. population. . . ."
Perry Bacon Jr., the Grio: Now, Obama needs to fix Obamacare
Charles M. Blow, New York Times: Republican Collapse
Eric Boehlert, Media Matters for America: CNN's Blame-Both-Sides Shutdown Coverage Flopped
Rob Capriccioso, Indian Country Today Media Network: Cherokee Tea Party House Member Gives Up Salary During Shutdown (Oct. 2)
Joe Davidson, Washington Post: Feds happy, mostly, to be back to work; Obama gives them big thanks
Jarvis DeBerry, NOLA.com | the Times-Picayune: A shutdown Washington gets some much needed prayer
Jarvis DeBerry, NOLA.com | the Times-Picayune: Republican flirtation with default looked like a desire to witness disaster
Charles D. Ellison, The Root: Obama, Cruz and Christie Walk Into a Bar
Fannie Flono, Charlotte (N.C.) Observer: Will Congress learn lessons from shutdown?
Rick Horowitz, Huffington Post: Giving Ted Cruz a Taste of His Own Medicine (A Boy Can Dream, Can't He?)
Andrew Kirell, Mediaite: Roland Martin Confronts Ben Carson Over Obamacare 'Worst Thing Since Slavery' Comments
Tony Norman, Pittsburgh Post-Gazette: Crazy rant on House floor hardly unique
Ishmael Reed, CounterPunch: The South's "Lost Cause" Addiction
Joy Reid, the Grio: The Tea Party isn't over: Why crisis politics is here to stay
Eugene Robinson, Washington Post: Republicans' hollow defeat
Black Paper in Richmond, Va., Drops "Redskins" Term
"The Richmond Free Press is dropping the Redskins nickname for the Washington NFL team from its pages, calling it racist," the Associated Press reported Friday.
"In an editorial Thursday, the weekly primarily aimed at the city's African-American community called the name insulting to Native Americans and divisive.
"The team's owner, Daniel Snyder, has vowed to keep the nickname. He has called the nickname a 'badge of honor.' . . ."
In another development, "The chief executive of the county where the Washington Redskins play their home football games said Wednesday that the team should consider a name change," Mike DeBonis reported for the Washington Post.
"Prince George's County [Md.] Executive Rushern L. Baker III has been asked in the past about the Redskins name and has typically avoided stating a direct opinion. But after a meeting of top regional leaders at the John A. Wilson Building in the District [of Columbia], Baker (D) explicitly said he would support a name change. . . ."
DeBonis also reported, "On Tuesday, Abraham H. Foxman, national director of the Anti-Defamation League, the New York-based organization that combats anti-Semitism, said 'teams like the Washington Redskins and the Cleveland Indians have a responsibility to be sensitive to the legitimate hurt that offensive names, mascots and logos cause.'
"Columnist Charles Krauthammer has taken on fellow [conservative] pundits, including Fox News' Bill O'Reilly, over the name. . . .
Also, "In a poll commissioned by the Oneida Indian Nation, 59 percent of respondents say Native Americans have a right to feel offended by the term Redskins," John Breech reported Wednesday for CBSSports.com.
"Among Redskins fans polled, a total of 46 percent of respondents said a name change would not lessen their support for the team. Another 23 percent said that a name change would actually make them even more of a Washington fan.
"The poll of 500 adults in the Washington D.C. area was conducted by SurveyUSA and has a margin of error of plus or minus 4.4 percent. . . ."
Two groups affiliated with the American Indian Movement, the AIM of Twin Cities and AIM Patrol of Minneapolis, announced plans Monday for a public protest when the team comes to town Nov. 7 for a matchup with the Minnesota Vikings, the Indian Country Today Media Network reported.
Tristan Ahtone,fronterasdesk.org: Acceptable Racial Slurs In Journalism (The Dreaded R-Word)


Raoul Lowery Contreras, Fox News Latino: 'Redskins' – Ethnic Slur?


Dana Lone Hill, the Guardian, Britain: Think no one cares about the Redskins' team name? Visit a reservation (Oct. 7)
Charles Krauthammer, Washington Post: Redskins and reason
Liberty Unyielding: Redskinsgate: Daily News political cartoon equates team logo to swastika
 
Tony Norman, Pittsburgh Post-Gazette: Redskins term just keeps piling on insult 
Christian Schneider, Milwaukee Journal Sentinel: With Indian nicknames, context matters (Oct. 12)
White House Correspondent Lothian Reported Leaving CNN
"CNN White House correspondent Dan Lothian is leaving the network, a CNN source confirms to TVNewser," Alissa Krinsky reported Friday for TVNewser. "Lothian is a ten-year veteran of the cabler, and has covered the administration for nearly five years. Previously he was with NBC News out of its Los Angeles bureau."
Lothian was Boston bureau chief and correspondent before his 2008 assignment to the White House after Barack Obama's election as president. He could not be reached for comment.
Maria Hinojosa's Go-It-Alone Gamble Paying Off
"Veteran public radio and television journalist Maria Hinojosa found herself at a crossroads in March 2010 with the impending cancellation of Now on PBS, the weekly newsmagazine she reported for as senior correspondent," Elizabeth Jensen reported last week for Current.org.
"Instead of taking a job at another media outlet, Hinojosa decided to form her own nonprofit production company. Now, her go-it-alone gamble is paying off: As public media increasingly seeks to attract diverse audiences, including the country's 53-million-and-growing Latino population, Hinojosa's New York–based Futuro Media Group is positioned to help meet the demand.
"After two decades as a half-hour public radio series, Hinojosa's Latino USA, has expanded to an hour, a length that's more compatible with stations' schedules. Produced independently by Futuro since 2010, the weekly NPR show's carriage is growing, as is its social media footprint, with some 86,000 followers on the streaming SoundCloud platform. Meanwhile, PBS and World Channel are finalizing an eight-episode run of Futuro's America By The Numbers with Maria Hinojosa, which explores how changing demographics are reshaping communities across the country. The series, which began with a 2012 election special, is expected to debut early next year. . . ."
Here's Why We Have a Filipino American History Month
Emil Guillermo began his column Wednesday this way: " 'You go to the United States where they pick money on trees,' Larry Itliong, the Filipino American labor leader and the equal to Cesar Chavez, says on a special tape recording of a classroom talk at Debra Panganiban Louie's Asian American class at UC Santa Cruz in 1976.
" 'Did that happen? Hell, no,' adds Itliong, who found Filipinos working the fields for less than a dime an hour. Itliong knew a lot that happened that was left out of the history books. It's one of the reasons we have a month officially dedicated to Filipino American History," Guillermo continued on his blog for the Asian American Legal Defense and Education Fund.
"Today, on Oct. 16, Filipino American History Month gets the month all to itself. Half over, the month begins in earnest.
"Since Sept. 15, October had also been concurrently National Hispanic Heritage Month, which notoriously double dips into two months and broadens its 30 days not unlike Imperial Spain. It does, however, honor the days that countries conquered by Spain in Latin America and Mexico celebrate their independence. But expansion into October means the inclusion of Columbus Day, which takes the spotlight off the Italian's dirty deeds to the indigenous with the name Dia de la Raza. Thanks to Ronald Reagan in 1988, it's all there as Public Law 100-402.
"By contrast, the scope of the Filipino American month solely honors the actions of actual Filipinos in America, and is thus genuine American history. . . .
Ruben Navarrette Jr., Washington Post Writers Group: Hispanics — an accounting
Belgian Agents Pose as Journalists to Sting Somali Pirates
"It could have been the script for a John Le Carré intrigue," Jean-Paul Marthoz wrote Thursday for the Committee to Protect Journalists.
"On Saturday October 12, Belgian security agents arrested Mohamed Abdi Hassan, a kingpin of Somali piracy known as 'Afweyne' (Big Mouth), and his associate Mohammed M. Aden, nicknamed Tiiceey, a former governor of Himan and Heeb province.
"They were snatched on their arrival at Brussels airport as they were disembarking from a flight from Nairobi and immediately sent to prison in Bruges under charges of 'piracy, kidnapping, and organized crime' for their alleged participation in the capture of a Belgian ship and of its crew off the Somali coast in 2009.
"How did it happen that these two men literally jumped into the lion's den? Because they were duped in a sting operation. Since the end of the 70-day hostage taking — which had been resolved after a ransom was delivered to the pirates — Belgian authorities had vowed to grab the authors and their sponsors. Convinced that an international warrant would not be acted upon by Somali authorities, the Belgian police decided to go undercover.
"According to Belgian federal prosecutor Johan Delmulle, police agents posing as documentary filmmakers contacted Tiiceey and asked him to put them in touch with Mohamed Abdi Hassan. After months of discussions, the pirate was eventually tricked into traveling to Brussels with a promise that he would be the chief adviser for a documentary film 'reflecting his life of piracy on the high seas.'
"The sting operation was met with applause in Brussels. 'This arrest marks a significant step in the fight against piracy,' said a spokesman for EU foreign policy chief Catherine Ashton. The ruse, however, immediately raised eyebrows among journalists.
" 'By pretending to be journalists, did the super-heroes of our security services realize that they put in danger all journalists in conflict areas?' wrote Belgian public radio RTBF journalist Thomas Nagant on his Facebook page. 'It is a question of principle: resorting to unconventional stratagems is not undignified as such, but how far can you go? You cross an unacceptable line by pretending to be a journalist, a humanitarian actor, or a diplomat.' "
"The Belgian association of professional journalists (AJP, the French-speaking section) also vividly expressed its concerns. . . ."
In the United States, fear of being labeled or used as spies by the government was a major reason the National Association of Black Journalists for many years forbade the CIA and FBI from recruiting at its job fair.
Torture of Journalists, Others in Ethiopia Detailed
"Ethiopian authorities have subjected political detainees to torture and other ill-treatment at the main detention center in Addis Ababa," Human Rights Watch reported Thursday. "The Ethiopian government should take urgent steps to curb illegal practices in the Federal Police Crime Investigation Sector, known as Maekelawi, impartially investigate allegations of abuse, and hold those responsible to account.
"The 70-page report, ' "They Want a Confession': Torture and Ill-Treatment in Ethiopia's Maekelawi Police Station,' documents serious human rights abuses, unlawful interrogation tactics, and poor detention conditions in Maekelawi since 2010. Those detained in Maekelawi include scores of opposition politicians, journalists, protest organizers, and alleged supporters of ethnic insurgencies. Human Rights Watch interviewed more than 35 former Maekelawi detainees and their relatives who described how officials had denied their basic needs, tortured, and otherwise mistreated them to extract information and confessions, and refused them access to legal counsel and their relatives. . . ."
The report also said, "Martin Schibbye, a Swedish journalist held in Maekelawi in 2011, described the pressure used to extract confessions: 'For most people in Maekelawi, they keep them until they give up and confess, you can spend three weeks with no interviews, it's just waiting for a confession, it's all built around confession. Police say it will be sorted in court, but nothing will be sorted out in court.' . . ."
Human Rights Watch: Africa: Jailed Ethiopian Journalists Challenge Use of Terror Laws to Silence Dissent
"WORLD Channel and WTTW, Chicago Public Television, are premiering a new series, Local USA, highlighting the best works of local public television and independent producers Monday, October 21," the channel announced on Thursday. "Clean, organic and simple, Local, USA is a story-driven half hour series of evergreen topics, hosted by Evan Allen-Gessesse and Niccole Thurman, two vibrant personalities who introduce people and places in different parts of the country, and the stories that make them unique. . . ." The Nov. 18 episode lists "Three stories about modern Native American culture: the effects and solution of climate change in the Pacific Northwest; a Lincoln, Nebraska sculptor, linking the past to the present; and the fight to revive a language in Oklahoma."
"Sandra Thomas is out as Univision News' senior director of local and affiliate news," Diana Marszalek reported Thursday for TVNewsCheck. "In a memo emailed to staffers Wednesday, Univision Television Group President Kevin Cuddihy and Isaac Lee, the company's president of news, announced Thomas's departure. . . . "
In Rochester, N.Y., "WROC-TV has a new news director: Constance Howard, who had been working at Channel 8 since August 2012 as an executive producer," the Democrat and Chronicle reported Wednesday. "Howard, 58, has worked as a news director in Baltimore, Birmingham and Raleigh. She was promoted on Monday. . . ."
"New York City teachers and students from grades 6 to 12 will have a new teaching and learning resource for the classroom: a bilingual social studies curriculum that documents the last 100 years of Latino community history in NYC (1913-2013), as covered through the pages of El Diario/La Prensa, the longest publishing Spanish-language daily newspaper in the United States, which just celebrated its 100th anniversary," the newspaper announced Friday. "The project is a partnership between El Diario/La Prensa and the City College of New York's Department of Teaching, Learning, and Culture, with collaboration from the Gregorio Luperón High School for Mathematics and Science, and El Puente Academy for Peace and Social Justice. It was developed by the Fall 2012 graduate 'Education that is Multicultural' class at CCNY . . ."
"A FRAGILE TRUST: Plagiarism, Power and Jayson Blair at The New York Times," a documentary about the former journalist that debuted in June at the Sheffield Film Festival in England, was shown at the Online News Association convention in Atlanta and is scheduled to air on PBS in spring, Sandra Oshiro reported Thursday for the Poynter Institute. ONA said the film airs in May as part of the "Independent Lens" series.
"The National Scholastic Press Association board of directors has named Diana Mitsu Klos as its executive director," the association announced Thursday. "The appointment is effective immediately, and she will be full-time director as of Nov. 1. Ms. Klos, a media education and nonprofits consultant based in northern Virginia, was a senior staff member at the American Society of News Editors from 1996 to 2012" and is a member of the Asian American Journalists Association.
In the Gambia, "President Yahya Jammeh's former press and public relations chief has been charged with sedition for passing state secrets to a journalist," the Toronto-based International Freedom of Expression Exchange Clearing House reported Wednesday. "Fatou Camara, who was arrested on Oct. 10 and released after posting bail, also previously worked as a talk show host for the state-run Gambia Radio and Television Services. Her arrest follows a whirlwind of bizarre proclamations from Banjul, the Gambian capital, including accusations that the United States and the United Kingdom were behind plots to undermine the government. Jammeh also pulled his country out of the Commonwealth, an organisation of 53 mostly current and former British colonies. . . ." 
Journal-isms is published on the site of the Maynard Institute for Journalism Education (mije.org). Reprinted on The Root by permission.
Follow Richard Prince on Twitter.
Facebook users: "Like" "Richard Prince's Journal-isms" on Facebook.