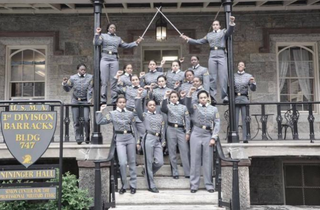 The U.S. Military Academy at West Point has announced that the female cadets who were photographed with their fists raised will not face any punishment for their actions despite cries from those who believed the move showed solidarity with the Black Lives Matter movement.
"Based upon available evidence, none of the participants, through their actions, intended to show support for a political movement," officials at West Point said Tuesday in a statement viewed by Time.
After an investigation by the academy, it was determined that the cadets' action didn't violate any military regulations, since the women were showing "unity" and "pride," the statement read. All 16 female cadets will graduate May 21.
"We are held to a high standard, where our actions are constantly observed and scrutinized in the public domain," West Point's superintendent, Lt. Gen. Robert L. Caslen Jr., said in the statement, Time reports. "We all must understand that a symbol or gesture that one group of people may find harmless may offend others. As Army officers, we are not afforded the luxury of a lack of awareness of how we are perceived."
Read more at Time.