A female correctional officer at New York City's Rikers Island jail complex said that she was blinded by love after being charged Sunday with raping an inmate and conspiring to traffic marijuana into jail for him, the New York Daily News reports. 
Nicole Bartley, 30, who worked at the George R. Vierno Center facility, said that she was made a fool of by the inmate because of her love for him and was thus persuaded to bring him the drugs, the criminal complaint read. 
"I, Nicole, being a fool had my guard down to this man I thought [I] was falling in love with," she said, according to the criminal complaint, the Daily News notes. She admitted to sleeping with the inmate—who cannot legally consent to sex as a prisoner—and later agreeing to get marijuana for him. 
"I was in love with him. He used me and played me for a fool. I had sex with him on one occasion in the jail a few days before Jan. 30," she said. "I used a condom. It was in the closet in the morning when everyone else was locked in. It only lasted five minutes."
Bartley was arrested Sunday after investigators found her at her Bronx, N.Y., home with 70 grams of marijuana on her, which she said was for the inmate. She was later released on $1,000 bail but could face up to four years in prison for the third-degree rape charge. She will also be suspended, the site notes.
G/O Media may get a commission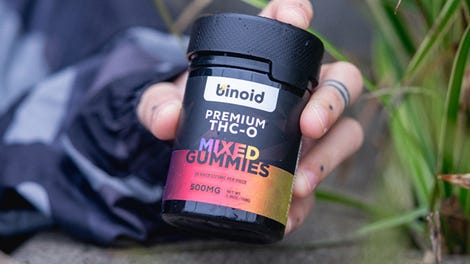 25% Off + Free Shipping
Binoid THC-O Gummies
She is, the Daily News notes, the 26th corrections staffer to be arrested since the City of New York Department of Investigation started looking into corruption at the notorious jail in 2014.
Read more at the New York Daily News.