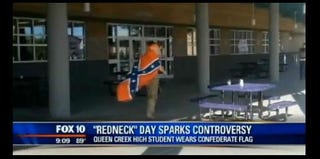 The U.S. Department of Education is investigating a controversial "Redneck Day" celebration at an Arizona high school after civil rights leaders said that it created a racially hostile environment, the Associated Press reports.
The Rev. Jarrett Maupin says the DOE will "determine the remedy, including moderating conversations between school administrators and civil rights community leaders to shape new policy and racism prevention measures."

The DOE's Office for Civil Rights says "the display of the Confederate flag concerns rights protected by the First Amendment."
Student-council members at Queen Creek High School in Queen Creek, Ariz., which is outside of Phoenix, thought it would be fun to host a "Redneck Day" to build school spirit leading up to prom week in May. But things quickly got out of hand when a student showed up at the school wearing a Confederate flag.
Read more at ABC15.com.