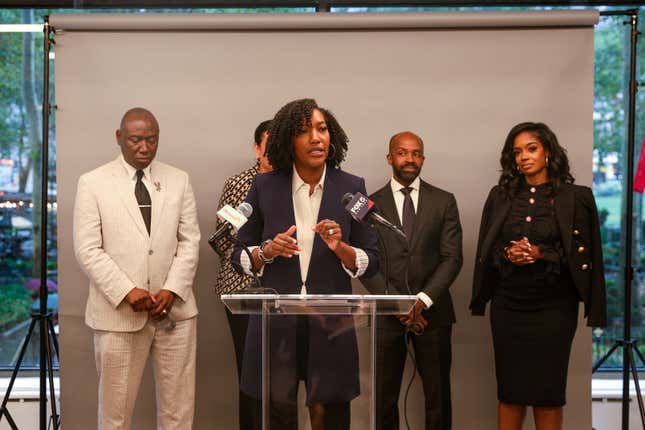 It's been less than a week since the man who brought down affirmative action set his sights on the Black women behind the Fearless Fund—a venture capital firm that supports minority women entrepreneurs. Now, they're speaking out for the first time along with their attorneys, and their message is crystal clear: They're not going down without a fight.
At a press conference on Thursday, two of the fund's co-founders, Arian Simone and Ayana Parsons, and their attorneys vowed to defend their life's work. "We are not scared; we are fearless," said Simone in response to the attacks.
"Activism is in our DNA," added Parsons. "We will not sit on the sidelines and watch idly by as Black and brown women are under attack."
The Fearless Fund provides grants to women minority-owned small businesses, which are woefully underinvested in by other financial backers. As it stands, roughly two percent of all Venture Capital funding goes towards women-founded businesses, and less than one percent of total funding goes towards businesses founded by women of color.
"We know that women such as ourselves have been marginalized, we've been overlooked, we've been underfunded, and unsupported," said Parsons.
Although their fund is relatively small, both Parsons and Simone say they've managed to have an impact on the lives of women of color entrepreneurs like themselves. "I am proud to say that in these past four years, we have deployed and invested in over 40 businesses; we have also deployed over 26.5 million in investment capital," said Simone.
For a bit of background, last week, the non-profit founded by anti-affirmative action crusader Edward Blum filed a discrimination lawsuit against the Fearless Fund. The lawsuit argues that the fund violated the 1866 Civil Rights Act because it requires applicants to be women of color.
Alfonso Davis, President and CEO of the Global Black Economic Forum, who is serving as co-counsel alongside Civil Rights Attorney Benjamin Crump, said their legal argument is insulting.
"Those targeting the Fearless Fund want to propagate a system that privileges some and shuts out most; they want us to pretend that those inequities do not exist," he said. "Their cynical legal theory is based on a law passed in 1866 after the Civil War, a law that was created to allow Black people to enter into contracts when they had been denied that ability for decades. Well, we're here to say that we're not allowing them to do that."
It's clear that this case is about far more than just one investment fund. Since the Supreme Court decision, conservatives have begun to attack DEI programs aimed at leveling the playing field for minority groups in the United States. During the press conference, Crump acknowledged that it was more than the future of the Fearless Fund that was at stake in this lawsuit.
"This is another frivolous attempt to prevent the progress of women," said Crump. "It's not just about them. It's about marginalized people throughout America having a seat at the table."