An internal investigation has found that the Washington, D.C., police officer who shot and killed unarmed motorcyclist Terrence Sterling had no reason to pull his weapon, let alone fire it, since he was in no danger.
According to the Washington Post, which obtained the review, Officer Brian Trainer, who fired the fatal shots, and his partner, Officer Jordan Palmer, violated department policies during the Sept. 11, 2016, encounter with Sterling.
Trainer was the passenger in a police cruiser that blocked part of Sterling's motorcycle. Sterling had reportedly been spotted driving erratically. According to the internal police report, Trainer told investigators that Sterling had "revved his motorcycle" before "violently" moving toward hm and pinning Trainer's leg between the door and the car.
Trainer claimed that he fired because he feared for his safety as well as Palmer's.
However, the report indicated that after re-creating the incident and examining Trainer's injuries, which were described as superficial in the report, investigators concluded that Trainer's leg had been struck by the door but had never been pinned.
G/O Media may get a commission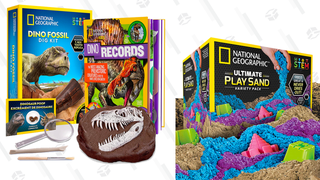 Up to 33% off
National Geographic Science and Activity Kits
The extensive 34-page report also noted that Sterling had been trying to make his way around the cruiser, not ram into it, while noting that, other than Sterling's apparent reckless driving, Trainer did not have any other reason to think that the motorcyclist could have been "armed and dangerous."
The decision to fire his weapon, the report concluded, "was not in defense of his life, nor was it in defense of the lives of others."
"It should be noted that Officers Palmer and Trainer violated several policies, placing themselves in an unsafe position, and had they followed department policies, Officer Trainer would not have been in a position to use force on Mr. Sterling," the report said.
Trainer, the Post notes, is currently on paid administrative leave. However, police officials have now recommended that Trainer be fired now that the internal review by the department had called the shooting "unjustified." If Trainer decides to challenge the issue, a public tribunal could occur early next year.
That being said, federal prosecutors already announced earlier this year that Trainer will not face charges in Sterling's death. Jason Downs, an attorney representing Sterling's family, said that he was "outraged" to find out that prosecutors presented the case to a grand jury but did not allow a vote on whether to charge the officer.
"That is disappointing and frustrating. It frustrates the purpose of our system," Downs said. "After sitting through so much evidence, grand jurors should have been given the right to vote this up or down. The prosecutor's office took that decision away from them."
However, the case may still be headed to civil court; Sterling's family filed a $50 million lawsuit against the Metropolitan Police Department in December of last year, claiming negligence and wrongful death.
Read more at the Washington Post.