The family of a man with autism, whose therapist was shot by a North Miami cop, is slapping the city of North Miami and four local police officers with a lawsuit, claiming that their loved one's civil rights were violated in the aftermath of the shooting.
According to CBS Miami, it was only on Monday, almost a year after the incident, that footage showing the police interrogation of Arnaldo Soto was released. Soto, who has autism, was taken in handcuffs to the North Miami Police Department after officers shot and wounded his caretaker, Charles Kinsey, in July 2016.
Soto wandered into the street from a mental-health center with a silver toy truck in his hand. Kinsey, a behavioral therapist who was taking care of Soto, went out to try and coax Soto back inside.
That was when officers allegedly mistook Soto's toy for a gun, although a recording of an interview between North Miami Police Chief Gary Eugene and Florida Department of Law Enforcement investigators revealed that the officer who deployed his weapon, Jonathan Aledda, was told by another officer at the scene that there was no weapon.
G/O Media may get a commission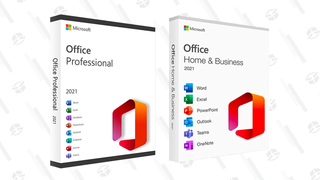 89% off
Microsoft Office Professional 2021 Lifetime License
Aledda fired shots even though Kinsey repeatedly insisted that there was no gun while his hands were raised above his head.
Soto's family says that after the shooting, Soto was taken to the Police Department and questioned in a small room.
In video of the interrogation, according to CBS Miami, an officer is seen attempting to question Soto about the incident, although it is clear that Soto is unable to answer any questions.
At one point Soto indicates that he wants his shackles removed but is denied.
Soto's mother and sister spoke to reporters Monday, saying that they were deeply upset about what was shown in the video.
"I'm heartbroken. I feel so guilty I couldn't be there for him. I'm upset in this day and age they can't tell that he's autistic," Miriam Rios, Soto's sister, said.
"There is no constitutional right that wasn't trampled by North Miami police on that day," attorney Matthew Dietz said.
Kinsey, who is no longer working as a caregiver, has filed his own lawsuit against the city as he continues to recover from the gunshot wound in his leg.
According to the report, Soto now lives at a special-needs facility in Central Florida. His mother and sister have also moved to be near him.
In the meantime, Aledda is also facing charges of attempted manslaughter for Kinsey's shooting.
Read more at CBS Miami.