Around 1 p.m. Saturday, Virginia police got a call reporting that 19-year-old Dyzhawn Perkins was going wild inside a Solo Mart store in Scottsville, Va. According to police, Perkins was knocking over shelves and reportedly attacked an elderly couple.
According to authorities, Perkins fled the store and two Buckingham County sheriff's deputies found Perkins at his home a short time later. Police say the teen dove through a plate-glass window and began attacking one of the deputies. That's when, authorities say, the other deputy fired his weapon. Perkins was pronounced dead at the scene.
That story, for many who knew Perkins, a senior and all-state offensive lineman at Buckingham County High School, is difficult to digest.
"I got a weird feeling all over and thought that can't be true," Cameron Gent, one of Perkins' teammates, told WTVR.
"He's not like that. That wasn't him," Gent told WTVR. "Something had to be wrong."
G/O Media may get a commission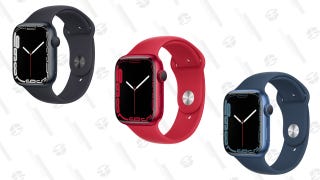 Up To $45 Off
Apple Watch Series 7
Family members told the news station Perkins was a "good kid" with a 3.0 GPA.
According to the news station, investigators are reviewing the shooting, with no timeline set as to when the investigation will be complete. Any findings, including a toxicology report, will be handed over to the Commonwealth's Attorney's Office in Buckingham County, WTVR reports.
The deputy authorities say was attacked by Perkins was treated at a local hospital for minor injuries.
"It's really sad that this young man is gone, and we'll never know what his potential will be," longtime Buckingham resident Angela Booker told the news station. "I feel for the family, I feel for the sheriff's department, I feel for the community."
Read more at WTVR.