If there's been one major takeaway from the riveting drama surrounding the recent trial testimony of Tekashi 6ix9ine—aside from "stay away from gangs, kids"—it's this: Don't tattoo your face, because one day, you might need a clean slate for Witness Protection.
Born Daniel Hernandez, the rapper-turned-star witness is now reportedly expected to enter the federal witness protection program as part of his plea deal (h/t New York Times). Naturally, we've been wondering: How exactly do you fly under the radar when your body, hands and face look like a doodle pad? More importantly, what would it take—aside from a lifetime supply of Dermablend—to make you less conspicuous?
Well, thankfully, the good folks at Complex did the recon for us, speaking to a tattoo removal specialist about exactly how long and how much it would take to restore Tekashi to his pre-body art appearance. The answer, according to Kelly Rheel, founder and owner of New York City's Flash Lab Laser Suite, is approximately one year and between $100,000 to $150,000—not to mention excruciating pain if the rapper undergoes both PicoSure laser tattoo removal and skin resurfacing to hopefully remove any remaining "ghost tattoos."
G/O Media may get a commission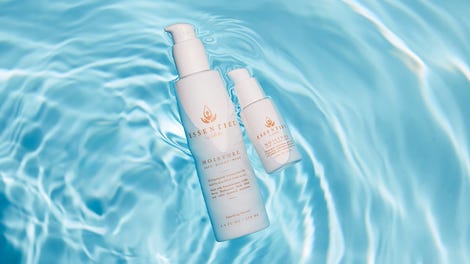 20% off
Essentiel by Adele
"This guy would pay my rent for the year," Rheel told Complex, noting that Tekashi's advantages are having primarily dark tattoos, which are easier to target, and medium-toned skin, which means she could use a higher and faster laser setting. "I mean, my God. For him, just to get rid of this 69: I'm thinking this is three inches down, two inches across on both sides. So you're looking at 10 inches. [That's] $1,000 a treatment just to get rid of the six-nine.
"This little clown face: See now, with that, I couldn't do the red, but the black I could do, and I would probably charge $200 for that," she continued. "Then this neckpiece, that would be the moneymaker. I would charge $1,500, at least, per treatment, and he might need 10 treatments."
As for how those treatments would feel?
"Lasers, in general, can be pretty intense," says Rheel, later speculating that even using the Pico laser, Tekashi would likely have to undergo two-hour treatments every six weeks for 42 weeks. "You've got to want to get these removed because it's not a fun process. We numb you for up to 45 minutes, but even after doing that, you're still going to feel it," she added. "Yeah, this guy's in trouble."
"In trouble" is likely the understatement of the year when it comes to describing Tekashi's current predicament, but as Rheel explains, the process is also temporarily disfiguring—which may be a good thing in the beleaguered rapper's case.
"It's a crazy process. A normal reaction after having undergone a singular tattoo removal treatment is blistering, bleeding, itchiness, redness. It's going to look like he's got the plague...Lasers are no joke," says Rheel.
And after all that, the likelihood is that there will still be some remnants of Tekashi's ink, confirming that a concealing foundation like Dermablend would still be a necessity. "[Y]ou would not be guaranteed to be able to disguise yourself fully, because you might have ghosts tattoos and white marks where these larger pieces were," Rheel explains to Complex. "Chances are there's going to be some kind of remnants of the ink that you had...That's why a witness protection program for this gentleman might be a little tricky, unless he gets a really good concealer."
Bottom line: If you're about that life, you probably shouldn't tattoo your face.
Updated: Thursday, 9/26/19 at 8:55 a.m. ET: According to TMZ, Tekashi may not be opting for witness protection after all, as the gossip site reports he'd prefer to return to performing with round-the-clock protection. Godspeed, dude.