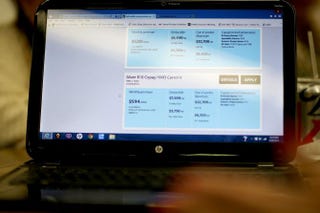 The Obama administration announced Tuesday that extra time will be granted after the March 31 deadline for consumers to complete enrollment in an insurance plan under the health care law, the Associated Press reports.
"We are experiencing a surge in demand and are making sure that we will be ready to help consumers who may be in line by the deadline to complete enrollment, either online or over the phone," Health and Human Services spokesman Aaron Albright told AP.
Officials told AP that extensions will be allowed on the honor system, requiring only that applicants attest that special circumstances or complex cases prevented them from finishing their enrollment by March 31.
While some have urged the administration to allow the grace period to last until April 15, the tax filing deadline, it is unclear how long the extension will last. By extending the deadline until the end of tax season, proponents have argued, those who are due refunds may be willing to put some of that money toward health care premiums.
"The disbursement of tax refunds appears to be making a substantial difference in the willingness and ability of uninsured Americans to sign up for … coverage," Brian Haile, senior vice president for health policy at the Jackson Hewitt tax preparation firm, told AP.
According to Jackson Hewitt projections, the goal of 6 million Americans enrolled in health care can be met only if the administration allows people to keep signing up through April 15.
Enrollment has already passed 5 million.
Read more at the Associated Press.