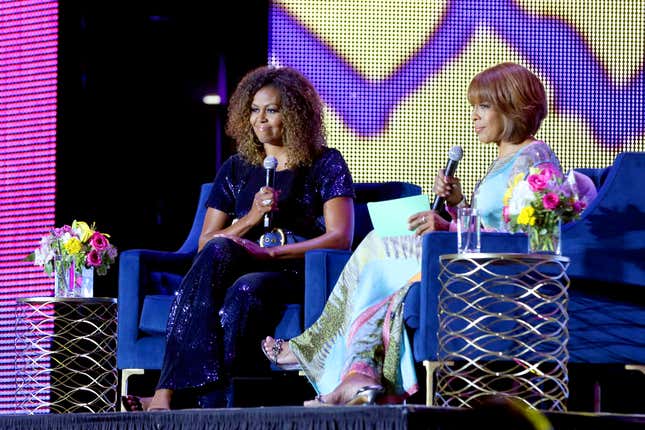 When it comes to Forever First Lady Michelle Obama, we know you want all the scoop on everything she's working on. Well, today is your lucky day because we've got an exclusive sneak peek of the latest episode of her podcast, The Light.

Oprah And Michelle Obama in The Light We Carry Is Our TV Pick This Week
In "Excellence Is My Practice," premiering April 11, Obama and her guest, journalist Gayle King, discuss how Black women have a feeling of doubt and fear of not being enough because the world is constantly telling us our accomplishments aren't valid. The title comes from Obama explaining how she overcame those fears. The duo also talk about the importance of professional habits like punctuality. The CBS Mornings host hilariously describes how Obama practices what she preaches, revealing that the Becoming author was on time down to the minute. The two successful women explain how crucial it was for them to teach their own children these traits from a young age. It may seem like a small thing, but since lateness is a long held stereotype against us, it's important that we start every interaction with the best impression possible.
As we all know, Black people are always at a disadvantage in professional environments. We have to prove ourselves in every way at every stage. We don't get the benefit of the doubt. When we make mistakes, we don't get the same second and third chances that are white colleagues get. Hearing role models like Gayle King and Michelle Obama talk about the impact of instilling these habits in their own children is a big deal. It's a truly fascinating conversation.
Season 1 of The Light has featured a star-studded lineup that includes Today host Hoda Kotb; filmmaker Tyler Perry; TV personalities/comedians David Letterman and Conan O'Brien; and upcoming guest Oprah Winfrey.
The Light is exclusively on Audible for two weeks, then becomes available on other podcast platforms. New episodes premiere every Tuesday.