L. Joy Williams will join Cynthia Nixon's New York gubernatorial campaign as a senior adviser, making decisions on everything from voter outreach, policy, fundraising and communications.

"We are thrilled to welcome L. Joy Williams as a senior adviser to the campaign. She has a long history of advocacy on issues of social justice and economic and educational equality," Nixon exclusively told The Root. "A lifelong New Yorker, L. Joy has led efforts to train, advise and support women, [in] particular black women, to build their political power and increase civic engagement. We are so proud to welcome her to help lead our team."
A lifelong Brooklynite, Williams, 39, has been a consultant in New York politics for more than a decade. Over the years, she has appeared on national television speaking on local and national campaign strategy and local voter outreach; she also has a weekly show called Sunday Civics, which informs listeners on civic engagement and current political issues. Williams will keep her roles as president of the Brooklyn NAACP and board chair of Higher Heights, a national organization that helps black women win elected office, since those are both volunteer roles.
Bill Lipton, a founder of the Working Families Party, which has endorsed Nixon, told The Root that Williams' hire will be a game changer in the gubernatorial race.
"Some people are liked. Some people are respected. L. Joy is one of those few people who are both liked and respected," Lipton said. "Plus she's got impeccable credentials across New York with both progressive left and mainstream Democrats. This is a big deal for the Nixon campaign."

G/O Media may get a commission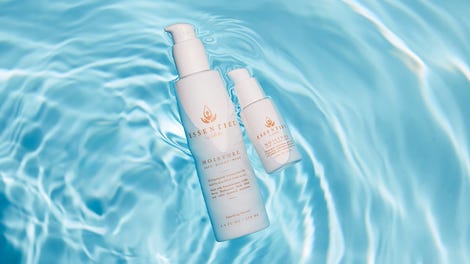 20% off
Essentiel by Adele
Williams' appointment comes as Nixon's campaign is priming for what will be an uphill Democratic primary battle to unseat Gov. Andrew Cuomo, who had a commanding 58 percent-to-27 percent lead in a recent poll—though that's much closer than a March poll, in which Cuomo led Nixon by 47 points.
Besides Williams' local experience working successful campaigns for Letitia James, who was elected as New York City public advocate in 2013, and New York state Sen. Kevin Parker, she has led national campaigns aimed at getting black voters to the polls during presidential and midterm elections. That experience will come in handy for Williams as she advises Nixon's campaign on how to shape a message that attracts New York voters to the polls in an off-year primary, which historically have low turnouts.
Citing experience running voter-turnout campaigns for black women in Ohio and Georgia, Williams said:
Part of the reason why we have this apathy in the process is that people feel as if the issues that matter to them aren't being championed, and they feel as if their vote and participation has no value and no power. So doing that project in 2014, I was able to do some organizing work and communications strategies where we prioritized their issues and spoke to them and not waited until the week before Election Day, and we saw greater turnout.
Then there is the other challenge of convincing New Yorkers that Nixon is more than her Sex and the City character. Statewide, editorials have provided mixed opinions about her candidacy. Richard Brodsky, a former New York state legislator, wrote in the Albany Times Union that Nixon's progressive stances are pushing Cuomo to account for the issues he claims to support, such as criminal-justice reform. Though, Brodsky adds, she will need to broaden her support beyond her ideological liberal base to pose a real threat.
The Buffalo News, while citing some of Cuomo's shortcomings, wrote a more critical assessment in an editorial Sunday, saying that Nixon will have to overcome the reality that celebrity politicians simply do not perform well in elected office. Arnold Schwarzenegger, Jesse Ventura and Donald Trump were some of the examples the paper named.

"Maybe Nixon will be an exception. But first, she will have to convince voters that the job of governor of New York is an entry-level position," the editorial ended.

Williams isn't allowing Nixon's celebrity to weigh down the possibilities of her campaign.
"Well, there's nothing we can do about that, is it?" she said. "I've also been asked, 'Aren't we tired of having Hollywood and actors getting involved in politics?' and they're using Trump as an example. You cannot compare Cynthia Nixon and her experience of organizing and focusing on the state with [Trump]. There is a danger of saying, 'We don't want actors ever, and we don't want these types of people active in our political discourse because they care about issues as well."
And in case you're wondering, Williams made it clear that she will not be the token black woman on the campaign staff.

"We had a couple of conversations about what role they wanted me to play," she said. "And they were very specific that they wanted me to play a senior role and not be the black girl doing the black girl stuff."