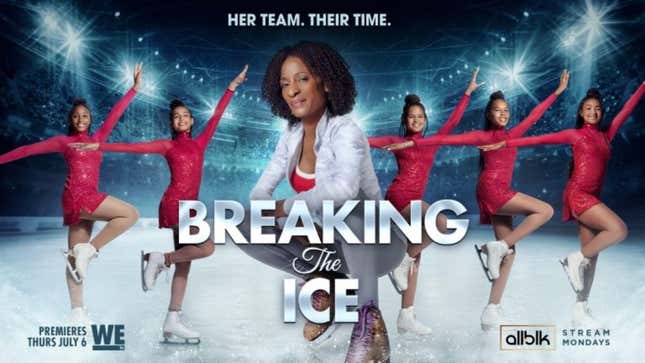 I love figure skating. It's one of my favorite sports. While the rest of the world only pays attention every four years at the Olympics, every fall and winter, my weekends are dominated by watching international competitions.

Tackling A Black Maternal Health Crisis & Embracing Reproductive Justice | The Root Institute
For those of you who aren't regularly following points and standings, WE tv and ALLBLK's new series, Breaking the Ice, takes you inside the figure skating world as groundbreaking former champion Rory Flack coaches Team DMV (Divine, Motivational, Visionaries), a synchronized team of middle and high school aged skaters of color. As much as I love figure skating, I've always been very aware that I'm not going to see very many competitors who look like me. That's one of the reasons that Flack wanted to be a part of the series. She spoke with The Root about using the show to make the sport more inclusive and introducing it to new audiences.
"We see one or two of us out there in the spotlight," Flack told The Root. "I did want to make sure that you could see that there are a lot of us on the ice. And there's enough of us to make teams."
Synchronized figure skating is exactly as advertised. It's a team performing a perfectly synchronized routine that blends athleticism and artistry. With the dangerous elements of skating involved, it requires an immense amount of trust, as well as countless practice hours to make sure everyone is on the same page once they're on the ice. With a new team, who is also being followed by cameras, this is even harder to accomplish. However, Team DMV were unified right from the start.
"Putting this group of girls together, it was like an instant sisterhood," she said. "There was an instant trust in each other and the other skaters' ability to push the team forward."
One of the reasons you don't see a lot of diversity in figure skating is because it's a very expensive sport to pursue. Between equipment, coaches, travel and practice time on the ice, the bill can be longer than a CVS receipt. Joining a team does help cut the cost down, but it's still a lot. And it's not just the regular expenses that can make things difficult. As always, it's also racism.
In this exclusive clip from the show, Peggy, one of the skaters, is forced to practice in the wrong skates, because the person who sold them to her didn't offer her quality equipment. This is a sticking point for Flack, as she thinks it shows how others involved in the sport don't believe in Black skaters' commitment.
For Flack, more than showcasing how figure skating can be for everyone, the show also offers her an opportunity to highlight the true effort and work that goes into the spectacular four minutes that everyone sees during the Olympics. This is a chance to understand how long the road is to get to that moment.
"You get to see it once every four years, but to get to see the hardships and the triumphs that occur on a daily basis and then what it takes to get to the rink," she said. "The journeys these parents have to go through, there's a lot more than those four minutes of joy that everybody gets to see. So it's gonna be a cool thing."
Breaking the Ice premieres July 6 at 9 p.m. ET on WE tv, with new episodes releasing on ALLBLK every Monday.