Late last night, our people were able to arrange a last minute interview with Meek Mill to discuss his beef with Wale. A condensed version of the interview is below.
Thank you for agreeing to do this interview. I know you have a lot going on right now, so I appreciate it.
I WASN'T AGREEING TO DO SHIT. ROZAY JUST TOLD ME YOU HAD CHEESE STEAKS AND GRAPE JUICE. SO I CAME THROUGH TO GET THE CHEESE STEAKS AND GRAPE JUICE, AND NOW A NIGGA TRYING TO INTERVIEW ME. IT COOL, THOUGH. BUT IF YOU DON'T HAVE THE CHEESE STEAKS AND GRAPE JUICE, I'M GOING TO SMACK THE SHIT OUT OF YOU WITH WALE'S TWISTS.
You carry Wale's twists around just so you can smack people with them?
OF COURSE! DON'T NO ONE IN PHILLY CARRY RAZORBLADES NO MORE. JUST NIGERIAN TWISTS. WE CALL THEM "UNCLE SAMS." I CUT FIVE OUT OF HIS HEAD WHILE HE WAS NAPPING ON STAGE AT KOD IN 2012. I KNEW THAT NIGGA WOULDN'T MISS THEM THOUGH. I NEVER SEEN A NIGGA GROW HAIR BACK AS FAST AS HE DOES. THAT LITTLE NIGGA IS A NIGERIAN LEPRECHAUN. NO WONDER HIS ALBUMS DON'T MOVE. HE BE SPENDING TOO MUCH TIME MAKING POTIONS!
G/O Media may get a commission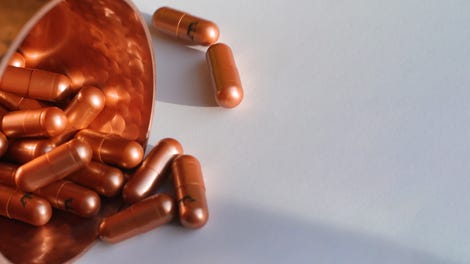 health
The Lyma Supplement
Speaking of Wale, you said some pretty harsh things about him yesterday. Care to expound?
I DIDN'T I JUST TELL YOU I WILL SMACK THE SHIT OUT OF YOU WITH MY UNCLE SAMS? DON'T EVER DISRESPECT ME LIKE THAT AGAIN
Wait, what did I do?
YOU TOLD ME TO GO EXPOUND, NIGGA. FUCK YOU!
Oh, I see. I wasn't threatening you, Meek. Expound is just another way of saying explain.
JUST SAY THAT THEN. I ONLY USE NINE DIFFERENT WORDS IN MY RAPS. AND SIX OF THEM RHYME WITH "PHILLY."
Noted. So, what's up with you and all this beef this year? First Drake, now Wale.
DON'T EVER SPEAK THAT ROLLED UP PIECE OF DOUBLEMENT GUM ON A BARBERSHOP FLOOR LOOKING ASS NIGGAS NAME TO ME AGAIN. FUCK DRAKE. FUCK CANADA. FUCK THE TORONTO RAPTORS. AND FUCK VEAL.
Veal?
BECAUSE THAT NIGGA REMIND ME OF A BABY COW.
Ok, so let's forget about Drake. What's going on with you and Wale? This is the second time you've called him out on social media.
I'VE HATED THAT NIGGA EVER SINCE HE STOLE THE LOTUS FLOWER BOMB BEAT FROM ME! I HAD WRITTEN A SONG FOR IT TOO, CALLED "I FAILED EVERY SUBJECT IN SCHOOL." AND RIGHT WHEN I WAS ABOUT TO RECORD IT, I GET A TEXT FROM ROZAY SAYING WALE ALREADY USED IT. AND I DIDN'T EVEN KNOW WALE WAS A RAPPER! I THOUGHT ROZAY JUST SIGNED HIM TO MAKE OMELETS AND WRITE CAPTIONS ON THE MMG INSTAGRAM PAGE!
SO THAT NIGGA APOLOGIZED AND PROMISED TO ALWAYS TWEET OUT MY MIXTAPE LINKS AND PRE-PAID LEGAL MEETING AGENDAS TO MAKE UP FOR IT. BUT THERE'S TWO THINGS I LEARNED ABOUT NIGERIAN LEPRECHAUNS. ONE, THEY ALWAYS SMELL LIKE JERGEN'S CHERRY ALMOND LOTION. AND TWO, THEY LIE.
That's unfortunate. Do you think you'll ever be cool again?
FUCK THAT NIGGA. I DON'T NEED NO MORE REMINDERS THAT DRAKE — THAT HEAD OF LETTUCE DIPPED IN CREAMY CEASER SALAD DRESSING LOOKING-ASS NIGGA — SHITTED ON MY CAREER! NICKI ALREADY REMINDS ME EVERY NIGHT! GIVING ME LAP DANCES WHILE WHISTLING "HOTLINE BLING."
That seems like it would be confusing.
IT IS! AND I DON'T KNOW SHIT! YOU KNOW HOW HARD IS TO CONFUSE A NIGGA WHO FAILED LUNCH? CONFUSING ME IS LIKE CONFUSING AN OAK TREE!
ANYWAY, WHERE'S MY CHEESE STEAKS AND GRAPE JUICE?