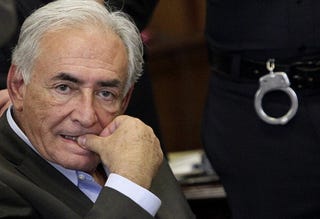 MSNBC is reporting new tests have found that the DNA of former International Monetary Fund leader Dominique Strauss-Kahn matches material found on the shirt of a Manhattan hotel maid who says he attacked her, two people familiar with the investigation told the Associated Press.
Colleen Long reports that two people said the tests were returned Monday afternoon. They were not authorized to speak publicly about the matter and spoke to the AP on condition of anonymity. They said DNA found on the maid's shirt matched to a sample of DNA from Strauss-Kahn, once a French presidential contender.
Strauss-Kahn, 62, is accused of attacking a 32-year-old housekeeper in his $3,000-a-night hotel suite. He faces charges including attempted rape and sexual abuse. He is scheduled for arraignment on June 6.
While the New York media are busy building a case against the maid, authorities are busy building a case against Strauss-Kahn. DNA evidence is pretty hard to refute, although it does not prove that the victim was attacked. Still, the fact that his DNA is on the alleged victim does not bode well for Strauss-Kahn. The plot is thickening in what may very well be the trial of this century.
Read more at MSNBC.
In other news: Supreme Court Upholds Order That Could Release 40,000 California Inmates.
Like The Root on Facebook. Follow us on Twitter.