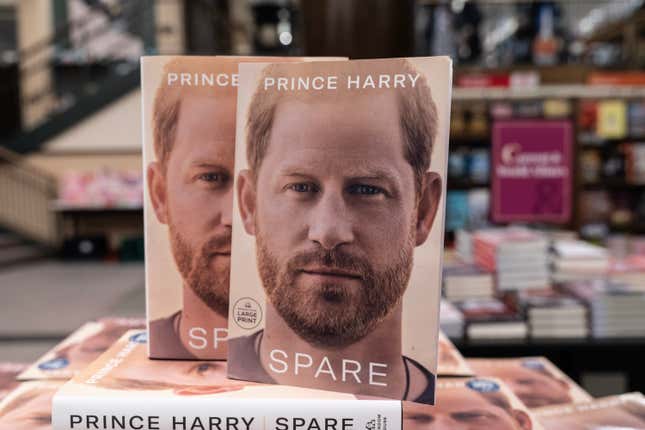 Everyone is talking about Prince Harry's memoir, "Spare." Even here at The Root, we've found ourselves caught up in the hype around the rebel prince's tell-all about life inside the royal family. The audio book is perfection, said one of our editors and "the words fly off the page,'' she added. And that brings us to one thing people aren't talking about is that while Harry's face and name are plastered all over the cover, there's actually a man behind the curtain of Harry's book.

Cosby Show & The Resident Star, Malcolm-Jamal Warner, Plays That's So Random
Pultizer prize-winning writer J.R. Moehringer is the highest paid ghostwriter in the business and has written bestselling memoirs for other celebrities, including "Open" for tennis star Andre Agassi and "Shoe Dog" for Nike founder Phil Knight.
Page Six reported that Moehringer, who has experience at the New York Times and the Los Angeles Times, earned a $1 million advance for Harry's book even though you won't see his name anywhere on the cover.
But Harry isn't the only star who's called on a little help to get their story out there. Former First Lady Michelle Obama credits several writers, including Chris Haugh, a writer who was a fellow at the Obama White House, with collaborating with her on her bestselling memoir, "Becoming." And ghostwriter Dan Paisner has written books for well-known stars, including Denzel Washington, Whoopi Goldberg and Serena Williams.
And while it may not surprise you that these celebs aren't writing their stories by themselves, you may be blown away with how much they're getting paid to do it. For a ghostwriter, telling someone else's life story can often earn them more than their own. The New York Post reports that the average celebrity ghostwriting project can pay between $75,000 and $100,000 for around six months of work. Not a bad payday to spill someone else's tea, huh?
But that payment usually comes with a lot of work. Ghostwriter David Fisher told NPR that his process involves listening to hours of conversations with his subjects, studying their speech patterns to help organize their thoughts into a page-turner that readers won't want to put down.
And the writers are bound by strict confidentiality clauses that keep them from using the information they get from their clients for evil. As New York Literary agent Madeleine Morel told the New York Post, "Anything the author may have told the writer which doesn't go into the book is confidential and can't be rumored about, disseminated or shared."
So the next time you read a juicy celebrity memoir, remember that they probably had a little help making it happen.