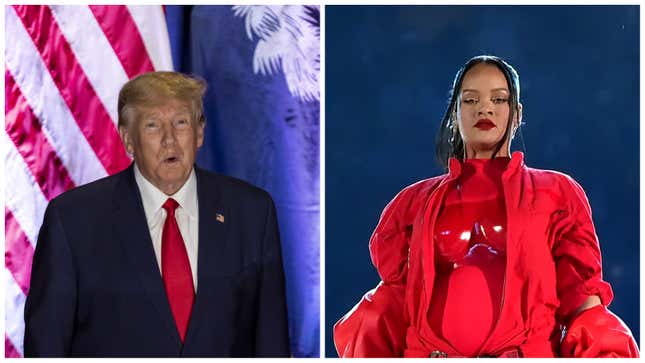 Though millions of viewers tuned in for Sunday's 2023 Super Bowl game between the Kansas City Chiefs and the Philadelphia Eagles, millions of other viewers were tuned in specifically to catch Rihanna's glitzy Halftime Show performance. And while many were pleased with what they saw (including that confirmed baby bump), there was one person who wasn't a fan: former President Donald J. Trump.
Donald Trump Might Actually Face The Music For His Alleged Hush Money Schemes
According to The Hill, the Head Cheeto-In-Charge 45th president took aim at the ANTI singer following her performance, writing on his Truth Social platform:
"EPIC FAIL: Rihanna gave, without question, the single worst Halftime Show in Super Bowl history—This after insulting far more than half of our Nation, which is already in serious DECLINE, with her foul and insulting language. Also, so much for her 'Stylist!'"
The "foul and insulting language" comment was seemingly in reference to a post Rih made back in 2020 that resurfaced on his platform over the weekend when she appeared to spray paint "Fuck Trump" on a car.
"Without her 'Stylist' she'd be NOTHING. Bad everything, and NO TALENT!" Trump additionally said of the "We Found Love" singer.
G/O Media may get a commission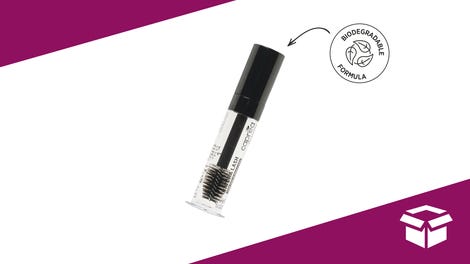 It's $8
20% Off Lash + Eyebrow Serum 2.0 - Caprea Beauty
With all due disrespect: who asked you, Trump? I can't think of a single, sound-minded person who saw Rihanna perform last night and immediately went: "I wonder what Trump thought of that?" Who the fuck cares?

What we should be talking about is the fact that this woman put on a great show, performing hit after hit, while pregnant and suspended in the air all while paying tribute to one of fashion's greatest influences and icons, Andre Leon Talley. That's hella impressive. Meanwhile, the only impressive thing Trump's done is remain off Twitter, thank God.
Don't let detractors steal your shine, Rih! We're all rooting for you no matter what!