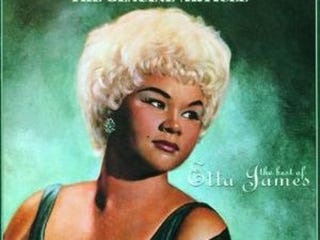 The Associated Press reports that a public viewing will be held Friday for singer Etta James, who died on Jan. 20 at the age of 73 after a lengthy battle with leukemia.
The Rev. Al Sharpton will eulogize the late blues legend, and as expected, he won't be the only big name in the building. His representative said that the funeral will include performances by celebrities, but those names have not been announced.
Her private funeral will be held the following day, on Saturday, Jan. 28, in Gardena, Calif. The public viewing will be held in Inglewood and the funeral will be held in Gardena, both in the Los Angeles area.
James was, of course, best known for hits like "At Last," "All I Could Do Was Cry," "Tell Mama," "Something's Got a Hold of Me" and "Good Rockin' Daddy."
The family is asking that any donations be sent to the Philadelphia-based Rhythm & Blues Foundation.
Read more at BlackAmericaWeb.