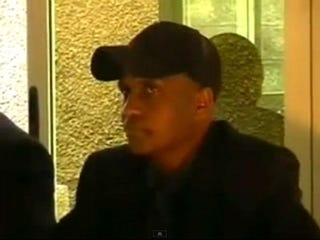 (The Root) — It could be said that the Ethiopian journalist Eskinder Nega dodged a bullet when he was sentenced to only 18 years in prison. After all, the charge of terrorism against him could have brought a death sentence or life in prison, as was the case with 23 other defendants — journalists, as well as opposition leaders, charged under Ethiopia's draconian and vague anti-terrorism law. An opposition leader, was, in fact, sentenced to life, while others, having fled the country earlier, were sentenced to various terms in absentia. 
But it can't really be said that Nega dodged a bullet, because the 18-year sentence is really a death sentence — in effect for his work and for freedom of speech in Ethiopia. For that was Nega's crime: telling truth to power. But the Ethiopian powers that be see that as being a traitor, given that Nega and the others were charged with being "spies for foreign forces," a not-so-subtle reference to alleged links to the Ginbot 7, a banned opposition group based in the U.S.
But when I was in Ethiopia recently to plead for the release of Nega and the other journalists (as part of a team from the Committee to Protect Journalists, on whose board I serve; and the African Media Initiative, which I co-chair), Nega sent word to us via his wife, Serkalem Fasil, that in no way was he connected with Ginbot 7 or any so-called terrorist group.
The case against Nega revolved around a grainy video showing him speaking at a town hall meeting, wondering if an Arab Spring-type uprising could ever happen in Ethiopia. The video is now available on YouTube.
But clearly Nega has been on the government's hit list for some time. He has been arrested more than eight times during the two-decade tenure of Prime Minister Meles Zenawi, once serving a year and a half, along with his then-pregnant wife, who gave birth in prison.
Their son survived the lack of prenatal care received by his mother, but the newspaper that his parents owned and produced did not. After the newspaper closed when they went to prison in 2006, and since Nega's earlier release, Nega had been communicating stories via a blog about government corruption and other official misdeeds, including the misuse of the terrorism law.
What is so tragic about the course that the Ethiopian government is pursuing with this terrorism law is that it undermines the moral authority achieved when Ethiopia held elections after the murderous dictator Haile Mengistu Mariam was forced to flee to exile in Zimbabwe in 1991. Mengistu had waged a bloody war against the Ethiopian People's Revolutionary Democratic Front, killing, by some estimates, more than a million Ethiopians between 1975 and 1978.
Today the EPRDF remains the predominant political party in Ethiopia by a wide margin. In 2010 it and affiliated parties won 545 of 547 seats in Parliament, giving it a fourth consecutive five-year term — affirmed by some observers, questioned and/or criticized by others.
Still, under the EPRDF, a constitution was created that included the right to freedom of speech. But in a chilling scenario that is starting to look in some ways like the era of Mengistu, the government passed an anti-terrorism law in 2009 that supersedes the constitutional guarantees and leaves little doubt that it is being used to silence dissent.
The U.S. government, among others, has criticized the law as well as the sentences handed down most recently: "The arrest of journalists has a chilling effect on the media and on the right to freedom of expression. We have made clear in our ongoing human rights dialogue with the Ethiopian government that freedom of expression and freedom of the media are fundamental elements of a democratic society."
Before Nega's sentencing, the Congressional Black Caucus issued a statement saying this: "Not only does the Ethiopian government misuse national security laws, but its actions devalue its standing in the international community."
But the U.S. and other Western nations, which rely on Ethiopia's pivotal role in fighting real terrorists in the Horn of Africa, conceivably could do more than give verbal condemnations. The U.S. government is at the top of the list of international donors that contributed an average of $3.5 billion in aid to Ethiopia between 2008 and 2010, according to the Organization for Economic Cooperation and Development. Sen. Patrick Leahy (D-Vt.) spoke out against the crackdown on journalists, writing, "It's time to put the values and principles that distinguish us from terrorists, above aid to a government that misuses its institutions to silence its critics."
Sources at the Committee to Protect Journalists tell me that Nega will appeal the sentence.  Maybe, in the coming days, those with a vested interest in Ethiopia's real security will weigh in, and maybe the powers that be in Ethiopia will be reminded of the words of Martin Luther King Jr.: "The time is always ripe to do right."
Charlayne Hunter-Gault, a regular contributor to The Root, is the author of To the Mountaintop: My Journey Through the Civil Rights Movement, published by Roaring Brook Press and the New York Times Co.
Like The Root on Facebook. Follow us on Twitter.