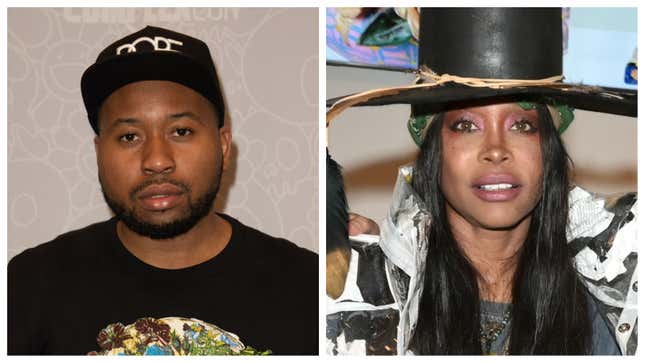 In news that can only be described as "too little, too late bro," DJ Akdemiks is airing out his grievances with singer Erykah Badu over a joke she made at his expense five years ago.
How Erykah Badu's "Tyrone" Became An Anthem For Black Women
Hopping on his Twitch livestream channel for a conversation that initially revolved around the Tory Lanez trial and Megan Thee Stallion, the DJ switched topics to Badu after a user watching commented that the "On and On" singer ought to "use her magic on him" over allegations that Lanez lawyers leaked private information to him during the trial.
"Erykah Badu, let me tell you this: you keep my name out your mouth too," he began, before referencing her appearance on the Everyday Struggle show he hosted five years ago where she said he looked like Jerry the mouse from the 1940's cartoon Tom and Jerry.
"Listen, that little Everyday Struggle shit, that was another era, my nigga. I'm down to violate all you niggas these days. Fuck what y'all got going on. You don't mention my name, please. I don't fuck with you neither," Akademiks said.
He continued: "I never fucked with Erykah Badu after she was tryna come on my show and be funny. Bitch, I don't fuck with you after that. Nigga, wassup now? What we finna do? Bitch, you a old-ass hoe, just keep getting fucked by all these young niggas who's popping. ... Bitch came in here waving all type of wands and shit. I'm trying to be nice to you. Now I realize, oh, you was trying to play me like I'm some clown. Bitch, fuck you, nigga. How many rappers ran through you, nigga? ... How many young rappers you chase, trying to fuck them too?"

He also referred to her as a "ran-through chick at 45" and accused her of trying to go after late rapper XXXTentacion.
After getting wind of his rant, Badu consequently hopped on Instagram on Wednesday to address his comments, explaining that at the time everyone laughed at it but it apparently triggered him in the aftermath.
"I learned something so valuable today, fam. You have to really be careful what you think and what you say out here. I learned today that something I said five years ago in jest, when we all laughed, actually triggered someone's really deep-rooted trauma," she explained in a video post. "They kept it bottled up for a while and it hurt them so bad, it had them out in these streets acting real pussy."
That's when the "Didn't Cha Know" singer whipped out her popular Badu Pussy Premium Original Incense and shared that it would be back on sale for a limited time and only in limited quantities.

"Let's go! Badu Pussy. On sale today, 5pm CST. You know it's rare and limited supply….they be talking about it everywhere, now you can smell it. Peace!"
What did Beyoncé say? "Always stay gracious, best revenge is your paper?" Looks like Badu is cashing in on that after all. And I don't blame her! Why get back when you can get money?