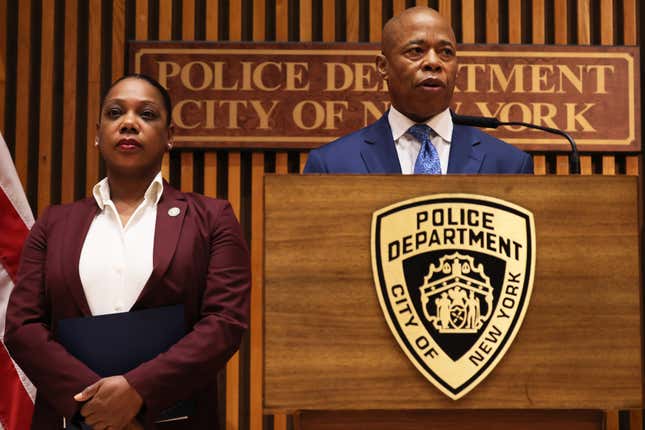 New York City Mayor Eric Adams is no stranger to weird scandals. I mean, who can forget the time the self-avowed vegan got caught eating fish? But this recent revelation truly takes the cake.
Loudmouth & MSNBC's Rev. Al Sharpton Plays That's So Random
The New York Times is reporting that mayoral staffers were instructed to create a "worn" photo of a fallen New York City police officer for Adams to keep in his wallet. Why, might you ask, would Adams want an old-looking photo of a deceased police officer?
During Adams's first month as mayor, the former NYPD officer held a news conference to honor the loss of two officers killed in Harlem responding to a domestic disturbance. At that news conference, Adams said that their deaths reminded him of the 1987 killing of his friend, Officer Robert Venable."I keep a picture of Robert in my wallet," Adams said.
This is where things get dicey. The New York Times asked to see the photo, which prompted Adams to pose for a portrait while holding the photo. Only, according to reporting from the New York Times earlier this week, that photo hadn't been sitting in Adams' wallet for years; it had been doctored by mayoral staffers days after Adams spoke about it at the news conference.
In fact, according to the New York Times, employees googled a photo of the fallen officer and proceeded to print out a black and white photo to make it appear worn. Allegedly, they then splashed it with coffee to add to the effect.
Adams went on to repeatedly mention the wallet anecdote in interviews and in his speech at a police academy ceremony. Now to be fair, Adams and his team are disputing the reporting. In a statement to the outlet, his spokesperson Fabien Levy said, "The Times's efforts to attack the mayor here would be laughable if it were not so utterly offensive."
In a press release from the Office of the Mayor on Friday, Adams' team pushed back against the reporting, including quotes and tweets from Venable's family and (randomly) Reverend Al Sharpton.
Venable's sister, Denise Benson, said that while she didn't personally know Adams, he had a "wonderful relationship with" her mother. She criticized the New York Times for trying "drive a wedge between us," accusing them of harassing her family for months.
Januari Venable, his daughter, said that Adams "has been there, even after the cameras were gone," following her father's death. And said that she was happy if her father's story could be used to get more guns off the street. Although in a previous interview with the New York Times, she said that she didn't remember meeting him until this year.
Sharpton jumped into the fray on Twitter, defending Adams against the reporting. "It's important to note the daughter and other relatives of Officer Venable are backing @NYCMayor for keeping his legacy alive, especially at a time when Black mayors are under attack across the nation for allegedly being soft on crime," wrote Sharpton.
At this point, it's safe to say that Adams and his team aren't backing down from defending themselves against the allegations. But regardless of what happens next, this is shaping up to be one of the more bizarre political scandals of the last year.