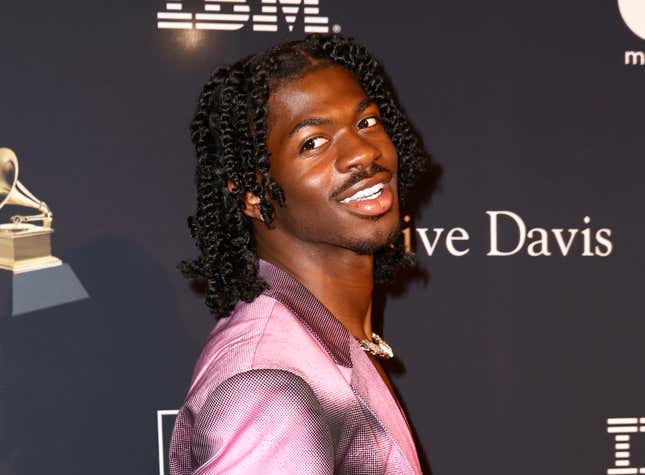 Concerts are not cheap. In fact, tickets can cost hundreds or thousands, parking is routinely over $50 and if you want drinks or snacks, that can be another $100. So with all that money invested in seeing your favorite artist, why would you waste it all by throwing an object at the stage after you get to the show? That's a question reasonable fans have been asking themselves lately, as several artists have fallen victim to the ridiculous trend of things being thrown at them while they're on stage.

Comedian London Hughes Talks New Book, Parents Watching Her Very Sexual Comedy, & Beyoncé
On Saturday, while headlining Lollapalooza Stockholm, Lil Nas X became the latest performer to have their show interrupted by a flying object. According to HipHopDX, the "Industry Baby" singer was able to make a joke out of it when he realized it was a vagina-shaped sex toy, asking the crowd, "Who threw they pussy on stage?" However, that wasn't the case for singers Kelsea Ballerini and Bebe Rexha, both of whom were hit by objects thrown at the stage.
After being hit in the face by a bracelet at a recent show, country singer Ballerini spoke to her fiddle player, left the stage for a few minutes, then returned to give the crowd a warning about staying safe, per People. The Knoxville native is a school shooting survivor who has been open about the PTSD she still deals with, which is why she needed to leave the stage and take a minute to "calm down."
"Can we just talk about what happened? All I care about is keeping everyone safe," Ballerini said. "If you ever don't feel safe, please let someone around you know. If anyone's pushing too much or you just have that gut feeling, just always flag it."
She added: "Don't throw things. You know?"
Rexha, however, wasn't as lucky and needed stitches after she was hit by a phone during a show in June. Now she has taken to wearing protective goggles on stage.
These incidents have led one superstar to proactively let her fans know that throwing stuff is completely unacceptable. During a recent performance at her Las Vegas residency, Weekends With Adele, the Grammy winner said, "Have you noticed how people are like, forgetting fucking show etiquette at the moment? People just throwing shit on stage, have you seen them?" While holding a t-shirt gun she joked with the crowd, adding, "I fucking dare you. Dare you to throw something at me and I'll fucking kill you," per Variety.
This all may have been in jest, but you know there was a serious sentiment behind it. The "Someone Like You" singer knows that things can get wild in Vegas. Between the free-flowing cocktails and the adrenaline rush from gambling, people start to feel fearless. She's making sure that anyone coming to her show knows that this behavior will not be tolerated by her or her crew.
I get that you want your favorite artist to know how much you love them, but buying tickets to the show and spending even more money on merchandise proves your support. Throwing your phone, jewelry or sex toys at them is unnecessary and frankly, stupid. Feels weird that this has to be said out loud, but do not throw things at the stage.