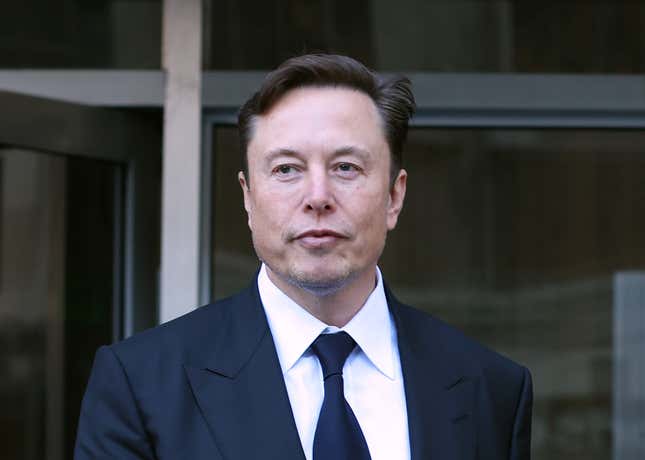 Since Elon Musk took over Twitter, it's become a lot less fun for people of color, women and the LGBTQ+ community. We've all seen the rise in hate speech and harassment. We thought changing the name to the completely ridiculous X would be the worst decision he made for a while, but now it appears that the billionaire wants to get rid of the block feature.

Elon Musk Has Opened the Floodgates For Racists On Twitter
In an exchange with the account Tesla Owners Silicon Valley, Musk was asked "Is there ever a reason to block vs mute someone? Give your reason." He replied, "Block is going to be deleted as a 'feature,' except for DMs."
This set off an immediate firestorm, with users criticizing his lack of understanding about why blocking is important and adding that he's one of the most blocked people on the site. As many users and reporters pointed out, this is a decision he will find difficult to implement, as both Apple and Google require apps to give users the power to block. So if he wants to stay on their app stores, he actually can't remove this feature.
Aside from terms of service issues, there are far more serious reasons why some people need to have the ability to block others. NBC News tech and culture reporter Kat Tenbarge elaborated on why it's so important for some users to control and manage their timeline with the block button, writing, "Blocking can alleviate temporary annoyance, but for many users, blocking is the only safety net that allows them to exist on this platform. Musk's strategy thus far has effectively resulted in pushing vulnerable people and voices off the platform. It's a feature, not a bug."
Personally speaking, I spend most of my Twitter time engaging with other wrestling fans and nerds who like comic books/sci-fi/fantasy. Unfortunately, these are both fandoms that are chock full of assholes and jerks–especially if you're a Black woman. Through blocking and muting, I've been able to create a timeline of cool people who share my interests and aren't going to make my life miserable if I disagree with them about the latest Marvel movie.
As writer Ahmed Baba clarified, there's a difference between blocking and muting, posting, "Elon Musk is going to unleash an avalanche of harassment. The entire point of the Block feature is to prevent trolls from seeing & responding to your posts. It stops them from harassing you & your followers. Mute doesn't do that."
For Black people, that means every time we tweet about holding police accountable, or racist book bans, or even Karens acting crazy, here come the world's worst people into your mentions. You know they just sit around waiting to cause chaos.
In case the words of actual media experts and journalists isn't enough, he can listen to actual users who will be adversely affected by this stupid, short-sighted decision.
One user pointed out how truly unsafe this is, writing, "The stalkers going to love not having to view ppls pages from google web page."
Another person noted how blocking allows users to maintain a peaceful timeline, posting, "blocking people who i've had awful interactions with on here makes it so much easier to just enjoy being on this app to talk to the people that i want to. taking away that feature is only going to drive people away from the app."
Someone got to the heart of the matter, which is usually money where Elon is concerned, writing, "It's because everyone is blocking the junk advertisers."
And one person explained that it was actually a little bit of everything, writing, "The block button is a basic social media tool to protect against harassment. It's a necessity. This is most likely done because: A. Too many ads are being blocked, B. Too many Twitter Blue users are being blocked, C. Elon doesn't like that he's being blocked, D. All of the above."
Before Elon Musk figures out he can't actually do this, and comes out with some "I was just joking and you guys fell for it" BS, he needs to understand that some of us can't avoid social media. It's either part of our jobs or helps us stay in touch with essential communities. We deserve to feel safe while we're on these platforms.