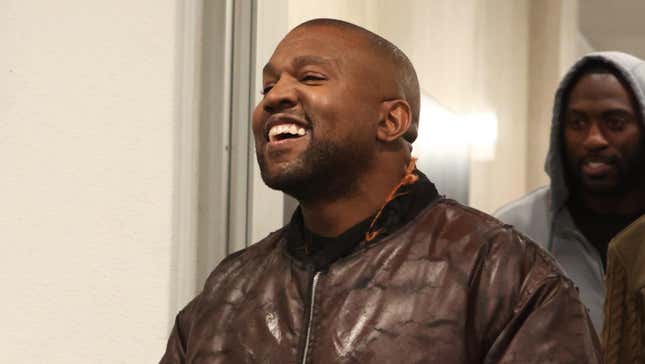 Elon Musk's tenure as the owner of Twitter, now X, has been anything but good. He's done nothing but make the user experience more difficult and frustrating for people using the social media platform for years.
Elon Musk Has Opened the Floodgates For Racists On Twitter
One of the only good things that happened under his watch was the day Kanye West was suspended from Twitter. But after nearly 8 months of silence from Ye, Musk has reinstated the Chicago rapper's Twitter account.

If you recall, in December 2022 the Chicago rapper posted an image of a swastika inside a Star of David. He captioned it with, "YE24 LOVE EVERYONE #LOVESPEECH."
As we all remember, Kanye had been on an anti-Semitic tour for the past year. Nearly everything coming out of his mouth was a hateful, discriminatory, or derogatory statement toward Jewish people.
As a result, Ye was put in Twitter timeout and has stayed in it for the entirety of 2023.

But I guess Musk was feeling generous and felt like giving the Donda rapper another chance.

According to The Wall Street Journal, West's account was reinstated over the weekend with the caveat that he does not use any harmful or anti-Semitic language (ya think). He also made it known that he won't be able to monetize his Twitter account and that zero advertisements will appear next to his tweets.
While Musk is narcissistic and confident enough to believe that Kanye will listen to his orders, I'm not.
Must we forget that one of Kanye's last tweets before being suspended was a response to Musk that read, "Who made you the judge?" He later posted a photo of the billionaire Tesla owner on a yacht being sprayed with a hose, which was captioned "Let's always remember this as my final tweet #ye24."

Ye and Musk have been bros for sometime, as fans and haters of both will recall this 2020 post from the Hitler-apologist rapper's Twitter back in 2020:
Kanye has made a career out of not listening to what people tell him, and do we think that he'll listen to Elon Musk of all people now just because he gave him a yellow check mark? Nah.