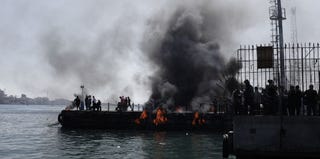 In Cairo, protests broke out after a judge upheld 21 death sentences stemming from the deadly football riot in February 2012, writes the Guardian.
The unrest follows a month of violence in the northern Egyptian city where more than 50 people have already been killed and hundreds injured in clashes with police.

On Saturday, Port Said residents set loose boats, attempted to block the Suez with ferries, and attacked the city's stadium after the verdict. In Cairo, hardcore football fans set on fire a police building and two restaurants, and blocked several roads and one of the city's main bridges. At least two people died during the ensuing clashes with police.

The fighting is part of the fallout from a stadium disaster in February last year, in which more than 70 fans of Cairo club Ahly FC were killed in rioting and crushes after a game against Port Said's Masry FC. Twenty-one Masry fans were condemned to death in January for their role in that riot – a verdict that sparked a bloodbath in which at least 40 people died, and set in motion a month of civil disobedience. Throughout February, Port Said has been paralysed by strikes, school walkouts and further clashes that have seen government offices set alight and ransacked. Port Said residents have resorted to civil disobedience because they believe that those condemned in January's verdict were sacrificed in order to placate the restive Ahly fans in Cairo.
Read more at the Guardian.