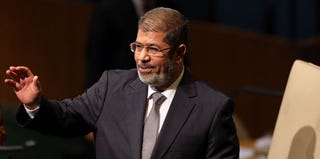 In Egypt, people are protesting President Mohamed Morsi's move to grant himself powers to overrule challengers. Al Jazeera reports that Morsi's new constitutional decree will also allow him to fire the prosecutor general and retry former Egyptian President Hosni Mubarak. 
At a Judges' Club press conference on Saturday, Abdel-Meguid Mahmoud, the former prosecutor general, said that he is willing to go to court to dispute Morsi's decision and warned "against any attempt to disrupt the work of the judicial system".

Al Jazeera's Hoda Abdel-Hamid, reporting from Cairo, said that the Judges' Club objects to Morsi's decree, which they say gives him more power than any president the history of modern Egypt.

Temporary powers

Morsi's constitutional decree does say that these powers are temporary and  in effect until a new constitution is written, gone to referendum and a new parliament is voted in.

"However, the judges say … what is the guarantee that it is for a temporary amount of time. They say you can not have a president who is accountable to no one," she said.
Read more at Al Jazeera.
Like The Root on Facebook. Follow us on Twitter.