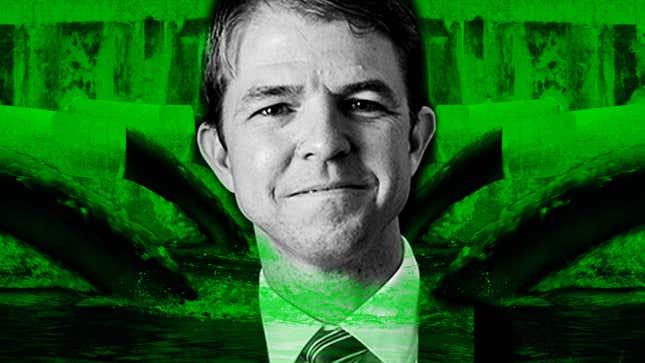 Last year I wrote about an environmental-racism conspiracy in which a corrupt black congressman implicated Jeffrey Wood, the man now overseeing the Justice Department's Environment and Natural Resources Division, or ENRD. I'm back to report that this story has aged like wine: It's gotten more complex, mightily more interesting and warrants an incredulous second taste to confirm that—no, really—those are faint notes of horseshit you're picking up.
Small Town Horror Story: The Vietnam Veteran Who Refused To Leave A Man Behind
In 2011 the Environmental Protection Agency found that a black neighborhood near Birmingham, Ala., was polluted with arsenic, lead and carcinogens from a nearby coking plant—so it established the 35th Avenue Superfund site. Superfund sites are extremely polluted areas where polluters and the government pay for the cleanup. In 2013 the EPA and the original offender argued that four other companies were also likely culpable. Two of these companies were clients of the Alabama law firm Balch & Bingham. However, for this story, only one of them, Drummond Co. Inc., and the law firm itself are important to remember.
The EPA fought to put the site on its National Priorities List and extend soil testing further into the surrounding neighborhoods. This would have granted the agency more authority to require culpable polluters to fund the cleanup.
Lawmakers swiftly rained down resistance, but none so passionately as that of then-Alabama state Rep. Oliver Robinson. He and his daughter convinced residents to refuse soil testing, based on the fallacious claim that it would destroy their property value.
Turns out, Balch & Bingham and their client Drummond bribed Robinson with $360,000. In addition to funneling money through his nonprofit, the Oliver Robinson Foundation, Robinson used the foundation to solicit money for his for-profit venture Robinson & Robinson. (Tips: Naming a nonprofit after yourself doesn't make bribery more honest, and naming two organizations after yourself is tacky.)
In September, Robinson entered a plea deal. To reduce the 100 years in prison he faced from seven federal offenses, Robinson confessed as to who, what, how and which angle of bent he found most comfortable while taking bribes. Two Balch lawyers, Joel Gilbert and Steven McKinney, and one Drummond vice president were indicted on counts of conspiracy to defraud the United States, bribery, wire fraud and money laundering. All three have pleaded not guilty.
---
But the buck doesn't stop here. Rather, its tracks drunkenly meander out into a good ole boy network littered with sketchy cash.

Only people from Balch and Drummond have been indicted. However, they weren't the only ones contributing to the nonprofit work from which Robinson siphoned profits. Another utility company represented by Balch—Alabama Power, for example—donated $30,000 to Robinson's foundation in 2015.
Alabama Power, a coal titan in and of itself, is a subsidiary of Southern Co., America's second-largest utility. Both entities share more relations with Balch than sister-wives. Executives at Southern and Balch swap out like Pokémon cards. Their little black book of political donees is Old Testament-thick.
Just as an example: Balch was founded in the '20s by the brother of Alabama Power's president to focus on the latter's legal affairs. Southern and Balch were Jeff Sessions' biggest donors when he was an Alabama senator. When Sessions became attorney general, Jeffrey Wood—who worked as Sessions' environmental and energy counsel until going to lobby for Balch and Southern in 2014—was made head of the ENRD. When the Trump administration replaced the EPA director overseeing the 35th Avenue site, it picked Trey Glenn, an Alabama official who worked for Balch & Bingham in 2016, to oversee the 35th Avenue site.
To have an affiliation with Balch or Southern is to be two—at most—degrees of separation from either a new job at the other company or a convenient position in the Trump administration.
Cousin-loving nepotism and corrupt congressmen make for an interesting conflict-of-interest cocktail. But for those not sipping the Kool-Aid, Southern's recent response to the advocacy group Consejo de Latinos Unidos tastes fishy.
K.B. Forbes, head of the CDLU, recently interviewed Southern's general counsel, Jim Kerr. Forbes submitted a plan of action that Southern could take to wash its hands of Balch's misdeeds in the Robinson scandal, including measures such as these: "Immediately conduct an internal top to bottom review of all partners and whose actions that may be unethical, criminal or unscrupulous. Fire all the bad apples regardless of tenure or seniority."
Kerr responded, "We do not see a place to step into [the Robinson scandal]." That rings hollow considering that Wood, Balch's point lobbyist for Southern, was lobbying on Superfund policy at the time on behalf of Southern. In fact, Wood has specifically recused himself (pdf) from any matters at the ENRD pertaining to the 35th Avenue site, suggesting that he was specifically lobbying about the site. After Forbes pointed this out, Kerr took a long pause before going full Sarah Huckabee Sanders: "We reviewed the information. I have no concerns about anything inappropriate."
When I asked Kerr about his comments, which Forbes surreptitiously recorded, I was referred to Southern's media strategist Schuyler Baehman: "I can confirm that it is Jim Kerr in the conversation. Beyond that, we have no further comment."
Southern may not have been indicted, but the company could be doing more to distance itself from a firm whose web of cash sticks to every facet of a conspiracy to disenfranchise poor blacks.
---
Robinson aside, Balch ghost-wrote a letter from then-Alabama Attorney General Luther Strange, which argued against the EPA's proposal to expand the 35th Avenue site. Strange also wrote another letter, falsely stating that Alabama's Department of Environmental Management's initial assessment was that the 35th Avenue site shouldn't be put on the National Priorities List.

Why the strange involvement of an AG in Superfund policy? Well, it could be connected to this: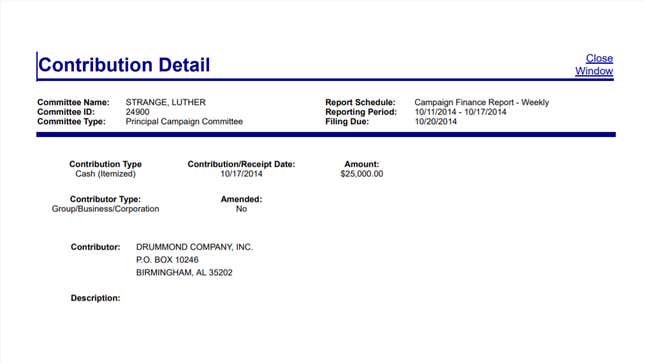 Or to the additional $50,000 that Strange's Senate campaign received from Drummond.
Mother Jones also discovered that a 2015 "Balch & Bingham newsletter touted a meeting with Jeff Sessions to discuss the 35th Avenue site and predicted a letter, signed by top Alabama lawmakers, would shortly be sent to the EPA expressing concerns over the agency's methodology when it came to assigning blame." It was. Sessions and his staffer Brandon Middleton (who would later become Wood's deputy at the ENRD) arranged meetings with EPA officials to argue against putting the 35th Avenue site on the NPL.
Now the funny part: Sessions ultimately oversees this corruption investigation. He's been asked multiple time to recuse himself. He hasn't acknowledged any such steps.

But hey, no need to be concerned about anything inappropriate.