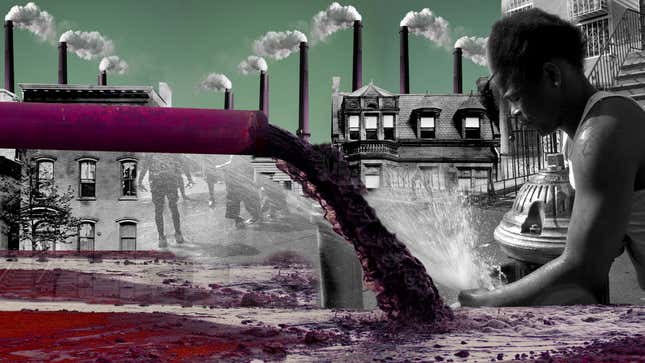 In the United States, race is the dominant factor when it comes to living in a toxic environment because black, brown and poor people are more likely to live in polluted communities with contaminated water, dirty air and toxic waste.
Small Town Horror Story: The Vietnam Veteran Who Refused To Leave A Man Behind
Seeing that our 45th president is indifferent to climate change and thinks that shutting down the Environmental Protection Agency's environmental-justice program is acceptable, organizations and communities that are fighting for equality of health and protection in the places where nonwhite people live, work and play are more important than ever.

Countless organizations around the nation are fighting environmental injustice toward people of color, from California in the West to New Jersey in the East and Alabama in the South. Here are grassroots groups from each state that are standing up for the right of their communities to breathable air, drinkable water and safe neighborhoods.

1. Black Belt Citizens Fighting for Health and Justice, Uniontown, Ala.
Since 2005, Black Belt Citizens Fighting for Health and Justice has been fighting against pollution in their community, which is more than 91 percent black. From coal ash to sewage overflows, pests, contaminated water and foul odors, the group is relentless in protecting their right to clean water and air, and preserving sacred land.

"Not only do we have the spray field that's spraying raw sewage into the creek, but we have the cheese plant, that smells like hogs," Esther Calhoun, president of Black Belt Citizens, told The Root. "You can't even enjoy your life, your everyday life. It makes me feel like I'm a prisoner because I can't have clean air, clean water."

The BBC demands a new sewer system, wastewater water treatment plant and freedom of speech.

Last year Green Group Holdings, who owns the Arrowhead Landfill, which is the subject of most of the protest by the BBC, filed a lawsuit against BBC officers charging slander and libel. The $30 million lawsuit was dropped earlier this year.

As the Trump administration displays a lack of concern for the EPA by proposing a $2.6 billion decrease in the agency's budget, Calhoun believes that staying focused is the key.

"We in Uniontown are in Donald Trump world. We are fighting a Trump every day. So this is nothing new to us," she said. "We just have to maintain and fight for each other. And for those that can't fight, we need to stand up for them."

2. Clean Water Action, Newark, N.J.
Founded during the campaign to pass the landmark Clean Water Act in 1972, Clean Water Action's mission is "to protect our environment, health, economic well-being and community quality of life."

Although it's most known for ensuring quality drinking water, it also pushes for access to healthy food and protection from pesticides and air pollution.

Kim Gaddy, environmental-justice organizer for the Newark, N.J., chapter of Clean Water Action, focuses on seaports, port communities and the air-quality issues that affect people of color and minorities.

The South Ward is adjacent to Newark Port, which is the third-largest port in the nation, second to the two in Los Angeles.
"On a daily basis, we have between 14,000 and 17,000 trucks that come in and out of our port. And out of that number probably 3,500 stay on our local roads," she told The Root. "And because of that high truck traffic, diesel, which is a known carcinogen, is spewed into our community."
In Newark, where more than 52 percent of the population is black, one out of four children have asthma. Even further, kids, along with the elderly, are dying from it.
"I fight each and every day around these issues because people have to understand that environmental justice is a civil rights issue," she said. "We have the right to breathe clean air, to drink good water, and have good food to eat."
3. SCOPE LA, South Los Angeles
In 1993, Strategic Concepts in Organizing and Policy Education was established after the 1992 Los Angeles uprising, also known as the Rodney King riots.

Started by a small group of local activists and leaders, the purpose was to tell the story of racism, disenfranchisement and neglect in South Central Los Angeles.

"We work in a largely black, Latinx and immigrant community that faces issues of structural poverty, chronic unemployment and underemployment; poor air quality and environmental health," Laura Muraida, research director, told The Root.

Other issues the group confronts are incompatible land use, brownfields, oil fields in residential areas, and crisscrossing train tracks and highways.

"For the past 10 years, SCOPE has been active in engaging low-income black and brown folks in the emerging green economy around jobs, but also identifying the burden of pollution in our community and the effects on our families," said Janté Pruitt, lead organizer.

According to Muraida, parts of South Los Angeles are in the top 5 percent most environmentally and socially burdened areas of the state of California, based on data from the CalEnviroScreen tool.

"We are currently helping shape the implementation of targeted climate investments in the Los Angeles region and ensuring that equity, health and economic justice are at the forefront of our region's future," she said.