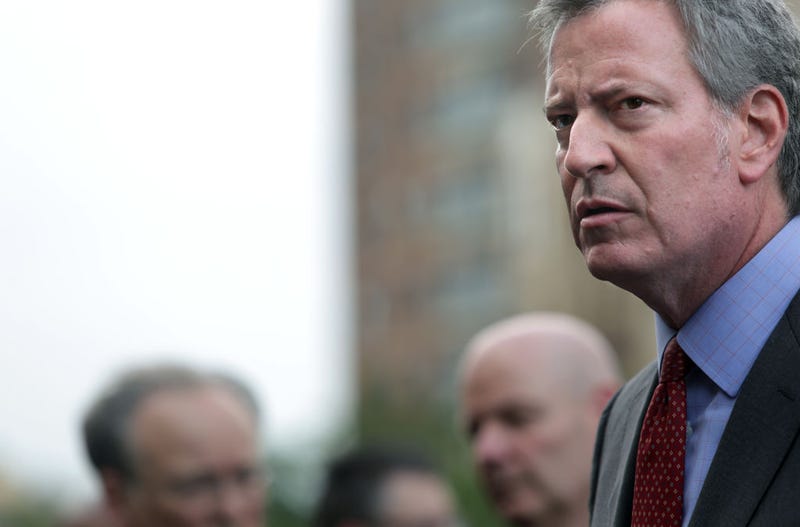 New York City Mayor Bill de Blasio came under fire last month in a revealing report commissioned and released by the Drug Policy Alliance that shredded the mayor's claims of addressing racial discrimination in marijuana arrests and convictions.
This week, de Blasio's office responded, claiming that the report, "Unjust and Unconstitutional: 60,000 Jim Crow Marijuana Arrests in Mayor de Blasio's New York," is "misleading":
In November 2014, Mayor de Blasio and the NYPD changed the City's approach to marijuana enforcement rules to enhance fairness without sacrificing safety or responsiveness to community concerns.

Under the new policy, if police find someone in possession of 25 grams or less of marijuana, officers issue a summons instead of making an arrest, so long as that person has identification and no outstanding warrants. Police are authorized to make arrests if marijuana is burning, if the type of possession indicates intent to sell, if the individual has an outstanding warrant, or if the individual is in a location meriting special consideration, like a school.

As a result of this new policy, arrests for marijuana possession are down 37% — from almost 29,000 in 2013 to approximately 18,000 in 2016. This has translated into approximately 9,600 fewer arrests of Black and Latino New Yorkers for marijuana possession in 2016 as compared to 2013.
The mayor's office statement further reads in part:
A report released last month by the Drug Policy Alliance — a group committed to legalization — ignores these changes and the resulting reductions in marijuana possession arrests of Black and Latino New Yorkers. The report ignores how this administration's approach to enforcement has resulted in both a safer city and fairer enforcement of state criminal law, which continues to prohibit recreational marijuana use. It also ignores the fact that New Yorkers makes tens of thousands of calls to 911 each year to complain about marijuana.
As previously reported by The Root, even with marijuana-arrest rates down, the racial discrimination in those rates persists. Overwhelmingly, black and Latino residents are still being arrested at much higher rates than their white counterparts. As for those "tens of thousands of calls to 911 each year to complain about marijuana," the mayor's office conveniently leaves out the gentrification of traditionally black and brown working-class and poor neighborhoods, which has coincided with an increase in calls to police.
The mayor's office also conveniently leaves out that more arrests are made in black and brown neighborhoods in response to those calls, while in predominantly white neighborhoods, arrests are few and far between.
Apparently, we, the gullible public, are supposed to believe that white people don't smoke weed as much as black people, when all data points to the contrary. It is discrimination, period. The Root previously delved into those numbers:
Last month, upon reading my article about the "Unjust and Unconstitutional" report, Peter Donald, the New York City Police Department's assistant commissioner for communication and public information, shot me a brief email, which read, "I can see you did a nice job of trying to even spin the facts and data we sent your way."
No, I'm untangling the web of bullshit being spun by de Blasio and the NYPD. (Keep up, Donald.)
Drug Policy Alliance New York State Director Kassandra Frederique is doing the same. Frederique released the following statement:
Mayor de Blasio is not disputing the data published in our report, he is trying to spin his poor record to look as though he has made some progress. In reality, New York City was the marijuana arrest capital of the world under Bloomberg and still holds that dubious title under de Blasio today. The 18,000 arrests in 2016 alone and outrageous racial disparities are a disgrace to the city and a blight on the mayor's record. The unjust and racially-targeted arrests are devastating Black and Latino communities across the city.

The mayor's efforts to discredit the report and the Drug Policy Alliance by calling us legalizers, is a desperate attempt to distract the public from the facts of his abysmal record. Our report is based on data from the New York State Division of Criminal Justice Services. Rather than attack his critics, the mayor should attack the problem of racially-targeted arrests.

For the record, the Drug Policy Alliance is committed to marijuana legalization to increase access for patients and end targeted policing in communities of color. And we're not alone; nearly 60 percent of Americans also support legalization.

It's time for the mayor to get out of the spin cycle and back to work. Over the past two decades, more than 700,000 lives were irrevocably damaged by racially-targeted marijuana arrest policies. The mayor must end the biased policing practices that have ruined the lives of so many young Black and Latino New Yorkers now."
However de Blasio and the "henchpeople" in blue want to spin this, he has not followed through with his campaign promises; the NYPD is not all of a sudden more humane and just; black and brown people are still violently targeted and living in occupied communities; and "whitey's on the moon."
Read more at Medium.com.