There is only one qualification for working in Trump's White House: Trump must like you. That's it. The president of the United States doesn't care if you are the lawn-care guy or a housewife (we see you, Betsy DeVos); if he likes you, that's all he needs to put you in charge of a multimillion-dollar agency.

Trump liked Jeff Sessions until he recused himself from the Russia investigation, and his only qualification prior to becoming attorney general was managing a staff of 100 working elves who made delicious cookies in a tree.
A tree, son!
So it makes perfect sense in a Trumpian world that a white doctor with a really black-sounding name and no experience leading a major department would be his pick to head the Veterans Affairs Department, and now, that pick—like most of Trump's others—is looking like a bad choice.
According to the New York Times, Dr. Ronny L. Jackson, the White House physician who rose to national levels after he gave Trump a glowing health assessment, is being heavily scrutinized by the Senate Veterans Affairs Committee, which alleges that he oversaw a hostile work environment inside the White House, allowed the overprescribing of drugs and reportedly drank on the job.
"The Senate Committee on Veterans' Affairs is postponing the hearing to consider the nominee to be secretary of the U.S. Department of Veterans Affairs in light of new information presented to the committee," said Sens. Johnny Isakson of Georgia, the committee chairman, and Jon Tester of Montana, its ranking Democrat, in a joint statement viewed by the Times.
G/O Media may get a commission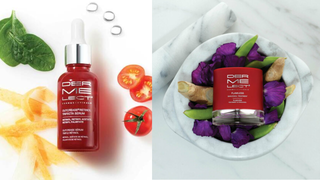 Save $19
Retinol Renewal Kit
"We take very seriously our constitutional duty to thoroughly and carefully vet each nominee sent to the Senate for confirmation," they added. "We will continue looking into these serious allegations and have requested additional information from the White House to enable the committee to conduct a full review."
Jackson was supposed to face a confirmation hearing Wednesday, but that ain't happening now. The Times reports that sources explained that the allegations against Jackson aren't isolated incidents but instead suggest a pattern of behavior that isn't conducive to running a department.
"I have very serious questions that need to be addressed, and they should be addressed right now, like, today," Sen. Richard Blumenthal (D-Conn.), a member of the committee, told the Times.
Jackson served as a rear admiral in the Navy and was expected to face an uphill battle during his confirmation hearing, as he isn't even remotely qualified for the position. The Times notes that Trump fired the former Veterans Affairs secretary, David J. Shulkin, an experienced hospital administrator and veteran of the VA medical system, for reportedly taking his wife sightseeing in Europe during a $122,000 business trip. Shulkin claims that he was standing in the way of Trump's attempts to privatize the VA.
Point is, it's messy. Shulkin should've been fired in a normal administration, but the Trump administration is where Environmental Protection Agency head Scott Pruitt is out here flossing like 2012 Trinidad James in his grossly underappreciated Negro anthem, "All Gold Everything."
So what have we learned today? Well, we've learned that the Trump administration vetting process consists of nothing more than a third-grade vetting process for best-friend status. We've learned that Dr. Ronny L. Jackson is a white doctor with a black-sounding name whom the president likes and thus picked to run the VA. We've also learned that Dr. Ronny L. Jackson, on name alone, has the qualifications to take over Dr. Dre's position in the World Class Wreckin' Cru.
'Cause I'm the world class doctor
The master of seduction
I can heal all your ills
And give you extreme delight
But only if you allow me
Dr. Ronny L. Jackson
To turn off the lights
In short, we've learned what we've always known: This administration is being led by a megalomaniac who is willing to trade positions in the White House to people who say he looks good. Basically, the president is an Instagram model giving out jobs while posting scantily clad photos for likes.