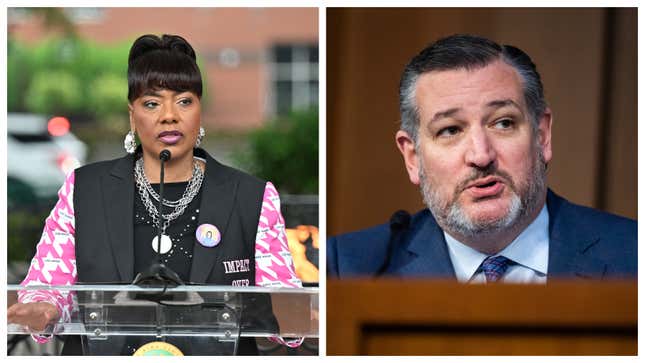 Texas Senator Ted Cruz has decided to give his opinion that nobody asked for. On May 21, 2023, Cruz tweeted that the NAACP's travel advisory for Black people and other minority groups in Florida is "bizarre" and that if Dr. Martin Luther King Jr. were alive he would be "ashamed of how profoundly they've (the NAACP) lost their way."

The Black National Anthem Reached Its Pinnacle Via Sheryl Lee Ralph
Only hours later, Dr. King's youngest child, Dr. Bernice King, clapped back tweeting, "What my father would be deeply concerned about is the harmful, discriminatory legislation in Florida." She continued by sharing a speech from her father with the caption, "Many are getting #MLK wrong. He was a dreamer, but his dream was global, inclusive, and deeply rooted in love and commitment to eradicating what he called the Triple Evils." The triple evils are militarism (war), extreme militarism (poverty), and racism.
Dr. King worked with the NAACP in the 1960s to help organize sit-ins in public places and other non-violent protests against Jim Crow laws. Cruz pushing the narrative that Dr. King would be anything but supporting staying alert in Florida is ridiculous. With Florida Gov. Ron DeSantis rapidly banning and threatening to ban the basic teachings of racism and inequality throughout history, students are doomed to repeat the same terrifying acts in the future.
The NAACP issued this Florida travel warning on May 20, 2023, in response to DeSantis' signing of a bill to defund diversity programs in Florida colleges and universities, which also impacts teaching about diversity in classrooms. The NAACP's statement emphasizes the growing concern for the safety of minorities in Florida:

"Florida is openly hostile toward African Americans, people of color and LGBTQ+ individuals. Before traveling to Florida, please understand that the state of Florida devalues and marginalizes the contributions of, and the challenges faced by African Americans and other communities of color."
DeSantis has been a brewing concern as he has pledged to dismantle "wokeness" since becoming Florida's governor in 2019. From signing the "Don't Say Gay" bill in 2022 to gunning for Black history lessons in school, his plans of destroying the freedoms of Floridians seems to be coming to fruition. It's been speculated his racist tactics are being used to help grab the White House. However, this is not a new tactic. Read our excellent story on how Politicians always try to drag Black people during the election.