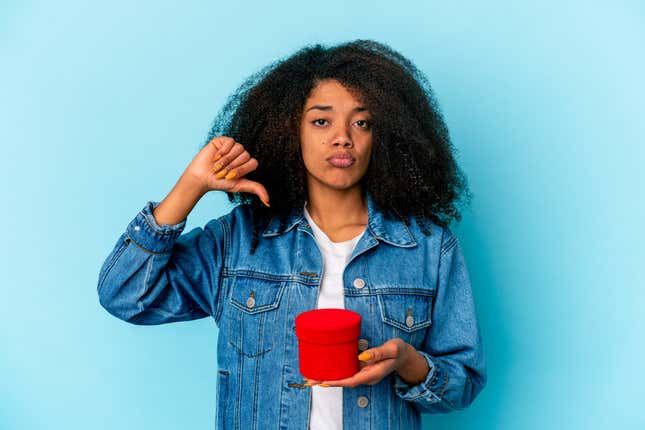 I know we're taught that it's that thought that counts. But if you're thinking about getting Mom a macaroni necklace or a hug coupon, please think again.

Here's How Medicaid Expansion Can Play A Role In Black Maternal Healthcare
She's always in your corner, so she deserves something special on her special day. Don't get me wrong, this is not a plea for an expensive vacation or anything in a blue Tiffany's box (But if the spirit moves you, carry on). You don't always have to spend a lot to show your mom how much you love her. But for the love of god, please don't think about giving the moms in your life anything on this list.
Anything Used to Cook or Clean the House
You may think you're doing Mom a favor by getting her an electric mop. But unless she specifically asks for one, don't play yourself. Gifts intended to clean or cook the house aren't exactly gifts for Mom. That is, unless the gift is a housekeeping service (wink, wink).
Coupons for Your Services
And while we're on the subject of services, can we all just agree that if you're not a six-year-old, coupons for free hugs are just plain whack?
A Pet
The kids may love the idea of having a furry new friend in the house. But we all know that most of the dirty work ends up falling on Mom's plate. If you're going to add a new pet to the family, make sure Mom is in on the plan. And maybe find another day besides Mother's Day to bring them into the household.
Anything Anti-Aging
This should go without saying, but consider yourself warned. Just say "no" to any anti-aging products, even if she talks about them. Give her a gift card to a store like Sephora or Ulta instead and let her pick out her own products.
A Home-Cooked Meal, If You Can't Cook
Giving Mom a break in the kitchen is a good idea. But if cooking isn't your ministry, maybe you should think about ordering from her favorite restaurant instead. If she doesn't have to cook, she should still enjoy what she eats. But if you do decide to cook, you'd better not leave her with a sink full of dirty dishes.
A "Best Mom Ever" Anything
I'm just gonna say it on behalf of all moms out there. Please stop it with those "Best Mom Ever" mugs, t-shirts and pillows. She gave you life. Do better.