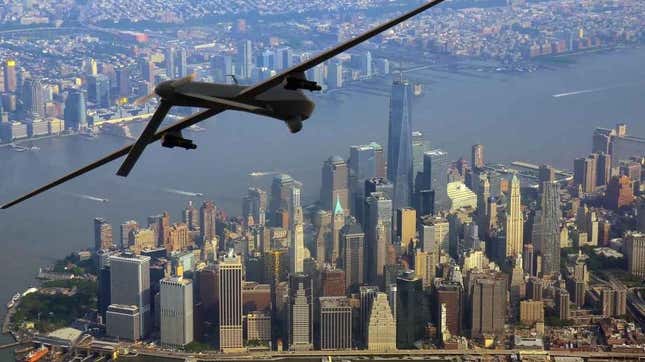 The NYPD has announced that it will monitor folks all over the city with drones this upcoming Labor Day weekend. The department has a history of enacting policies that disproportionately target and harm Black folks—and allegedly stealing DNA—so we won't blame you for giving their drones the side-eye (or just hiding your eyes altogether).
Courtney B. Vance in Heist 88 Is Our Black TV Pick of the Week
The New York City police department said that the drones will be used to deal with complaints about big gatherings—even if they are private events. Kaz Daughtry, who works as the assistant NYPD Commissioner, explained the reasoning at a press conference:
"The drones are going to be responding to non-priority calls and priority calls. For example, if we have any 311 calls on our non-emergency line where if a caller states there's a large crowd, a large party in the backyard, we're going to be utilizing our assets to go up, to go check on the party, to make sure if the call is founded or not, and we'll be able to determine how many resources we need to send to that location for this weekend. So we will have our drone teams out there starting tonight, all the way into Monday morning."
The conference particularly focused on J'ouvert, a yearly Caribbean festival commemorating the end of slavery taking place in Brooklyn. The news immediately drew immediate ire from various critics who questioned the legalities of this type of surveillance and claimed that it may violate privacy laws.
However, the NYPD has already used drones for public safety 124 times this year. By contrast, in 2022 drones were used only 4 times. The Public Oversight of Surveillance Technology (POST) Act mandates that the police department publish impact and use policies for the surveillance technologies it employs.
Interesting enough, it doesn't specify if drones can be used to monitor backyard parties. It does state, however, that "a UAS [Unmanned Aircraft System] will not be used in areas where there is a reasonable expectation of privacy without NYPD personnel first obtaining a search warrant that explicitly authorizes the use of a UAS," barring "exigent circumstances."
Per the Times of Israel, New York City Mayor Eric Adams promoted the use of drones during a trip he took to Isreal last week. "I've been leaning into how we could appropriately use drones, and they had great technology on using drones for early detection," he said.
So maybe this holiday weekend, it's time to hide your kids, your wife and even yourself.