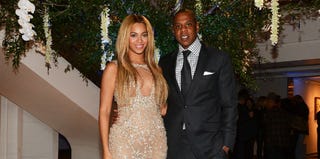 (The Root) For the past couple of days, our social networks have been all abuzz with a piece of "news" from gossip sites, blogs and radio stations, including Philly's Hot 107.9: that hip-hop mogul Jay-Z has merged his last name with his wife Beyoncé's (and used hers first, at that), meaning he's officially "Shawn Knowles-Carter."
Except the story isn't all that official. At all. While the unconventional and equitable move would make all the sense in the world for a trendsetting couple whose power marriage is almost as celebrated as the husband's and wife's individual musical footprints, the story doesn't appear to be any more verifiable than it was in 2009. A Boston.com piece from that year, citing the "Daily Star" appears to be he source of all the "breaking" stories. 
So until the alleged new last name is actually confirmed, it looks as if there's only one thing that's for sure a perfect 50-50 split of the two stars, and she goes by the name of Blue Ivy.