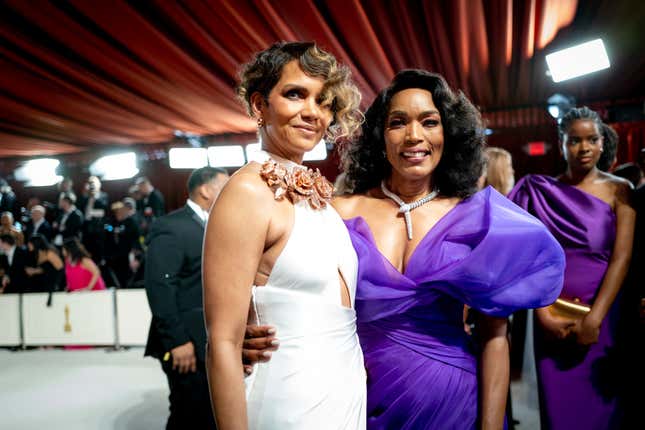 Going into last night's Oscar ceremony, we all had high hopes that Angela Bassett would take home the Best Supporting Actress award for her performance as Queen Ramonda in Black Panther: Wakanda Forever. But even she couldn't hide her disappointment when Jamie Lee Curtis' name was called instead.

Beyoncé Becomes The Queen of The Grammys With Record Wins
A short while later, Michael B. Jordan and Jonathan Majors took to the stage to express their love for Bassett. Jordan referenced a key moment in Black Panther, when he addressed her as "Hey Auntie," adding, "We love you," to drive the point home. But what might have seemed like a tender moment and an innocent reference to a line from a box office smash hit actually strikes a nerve with some other well-known Black women in the business.
Oprah Winfrey, Gayle King, filmmaker Ava DuVernay, and Mary J. Blige have all gone on record rejecting being called "Auntie" by anyone other than their actual nieces and nephews. While others, like Representative Maxine Waters (D-CA), leaned into the title during the Trump era and continues to wear it proudly.
"Auntie Ava? Why? Am I that old? Because I don't feel that old," DuVernay said during a 2019 appearance on Van Lathan's "The Red Pill" podcast. "And it's not a respect thing. Auntie Ava like Aunt Jemima?"
And just in case that left folks scrambling to figure out what the heck to call her, DuVernay sent a follow-up tweet to clarify just exactly how she'd like to be addressed.
"For the record, I happily respond to Hello Ms. DuVernay, hello sis, hello queen, hello family, hello Ava (safest bet). Ms. Ava is fine if you're under 18," she tweeted on June 4.
Oprah Winfrey echoes DuVernay's sentiments. "I cringe being called Auntie or Mama by anybody other than my nieces or godchildren," Winfrey explained in a 2019 interview. "Except if I'm in Africa, where it's the custom for everybody to refer to anyone older as 'Sister' or 'Auntie,' depending on the age difference. And there, no one refers to anyone older by their first name out of respect."
And Winfrey's BFF Gayle King was quick to cosign. "I hate being called Auntie. That's what you say to old people or the old lady who lives in the neighborhood," she said. "I get that it's a sign of respect, but no one's calling Beyoncé Auntie Beyoncé. The only ones who should be calling me 'Aunt' are my niece and nephew, and they don't add the ie."
Putting age aside, you can also point to how the term "Auntie" was used historically by white people – rather than Mrs. or ma'am – as a sign of disrespect. Just look at the now-retired, definitely racist images of Aunt Jemima and Uncle Ben.
I do think Michael B. Jordan genuinely meant Auntie as a term of endearment for an actress he genuinely respects and feels was snubbed by the Academy. And as a woman in her 40s (who loves to be called Auntie, by the way), part of me understands why the title may rub some women the wrong way. After all, is anybody calling Denzel Washington Uncle?