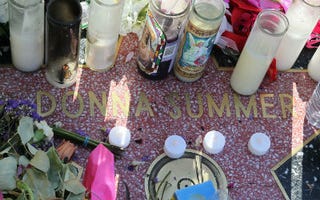 Donna Summer's funeral is scheduled for Wednesday at a church in Nashville, Tenn., but will be closed to the public. Her publicist, Brian Edwards, said in a statement on Friday to the Associated Press that the late singer's family is overwhelmed and appreciates the outreach from fans and friends, but it has decided that her funeral services will remain private.
From USA Today:
The disco queen died Thursday of lung cancer at age 63 in Naples, Fla.
Summer moved to Middle Tennessee in 1994 and put down her roots in Williamson County, reported WKRN in Nashville. She lived just outside of Nashville and attended Chris Church, where she and her family regularly took the second pew in the worship hall.
"What struck me was how sincere and humble and deeply rooted her faith was. She was the real thing. She was a very dear person," Pastor Dan Scott told WKRN last week.
Read more at USA Today.