Updated Thursday, June 25, 2015, 11:01 a.m. EDT: The entertainment division of Univision Communications Inc. has announced that it is severing ties with the Miss Universe Organization, which is part-owned by Donald J. Trump, after recent reports of Trump's disparaging remarks toward Mexicans.
"At Univision, we see first-hand the work ethic, love for family, strong religious values and the important role Mexican immigrants and Mexican-Americans have had and will continue to have in building the future of our country," a statement released by UCI reads. "We will not be airing the Miss USA pageant on July 12th or working on any other projects tied to the Trump Organization."
The statement notes that the news components of Univision will continue to cover the presidential candidates, including Trump.
Earlier:
At a June 23 Maryland Republican Party fundraiser, reporters asked GOP presidential candidate Donald Trump about his views on race relations.
G/O Media may get a commission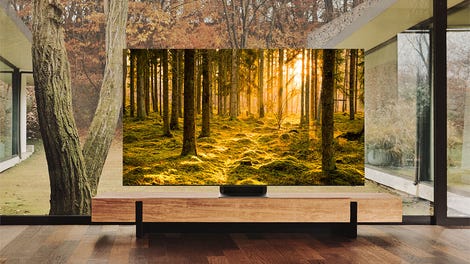 Up to 40% off
Samsung Smart TVs
Trump said that black youths are at "a point where they've just about never done more poorly. There's no spirit, there's killings on an hourly basis, virtually, in places like Baltimore and Chicago and many other places," according to The Independent.
The real estate magnate didn't stop there, adding, "I thought that President Obama would be a great cheerleader for the country. And he's really become very divisive."
Apparently, New Hampshire Republicans take the TV personality's candidacy seriously. A new Suffolk University poll of likely New Hampshire GOP primary voters put Trump second in the race, behind Jeb Bush.
Not that Trump was satisfied with second place, telling those gathered, "I can't believe Bush is in first place. This guy can't negotiate his way out of a paper bag. So I'm in second place to Bush? I hate it!"
Trump added that he had some really nice conversations with Mexican waiters while at the event and noted, "I love Mexicans. I've had tremendous relationships with people in Mexico. But we need a strong border. I said we need a wall!"
Read more at The Independent.