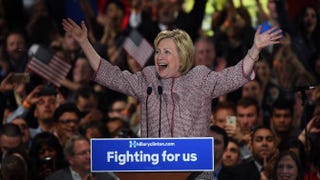 Republican Donald Trump and Democrat Hillary Clinton moved one step closer to securing the slot as their respective parties' nominee for president after both won resounding victories in New York's primary Tuesday night.
CNN reports that Tuesday night's wins for both Trump and Clinton changed the pace of the 2016 campaign, which has seen both front-runners fighting bitterly to keep rivals off their heels.
According to the New York Times, Trump won 60.5 percent of the GOP primary vote, and Clinton won 57.9 percent of the Democratic primary vote.
The New York Times notes that Clinton won big in New York City and the suburbs, taking most of the black and Hispanic votes, while Trump captured his home state by his largest margin of victory.