Donald Sterling has gone from racist to ridiculous.
In an interview Monday with CNN's Anderson Cooper, the embattled Los Angeles Clippers owner, who has been banned for life from the NBA for a racist rant that was leaked to TMZ, went HAM on Magic Johnson, mischaracterizing the Hall of Famer's HIV status to opine that he isn't a good role model and questioning his charity work.
When Cooper tried to cite Johnson's accomplishments, Sterling yelled, "He's got AIDS!"

He continued: "What has he done, big Magic Johnson, what has he done? He acts so holy. He made love to every girl in every city in America, and he had AIDS, and when he had those AIDS, I went to my synagogue and I prayed for him. I hope he could live and be well. I didn't criticize him. I could have. Is he an example for children?"
Cooper informed Sterling that Johnson is HIV-positive but does not have AIDS.
Sterling pressed on, however.
"What kind of a guy goes to every city, has sex with every girl, then he catches HIV. Is that someone we want to respect and tell our kids about?" Sterling asked Cooper. "I think he should be ashamed of himself."
Johnson's representatives told the New York Daily News that he would have no comment, but the newspaper reported that Johnson will appear on Cooper's show Tuesday. There was no mention of Sterling's newest rant on Johnson's Twitter timeline.
NBA Commissioner Adam Silver issued a statement late Monday that again denounced the words of Sterling. In the statement, viewed by the Associated Press, Silver apologized for Sterling's newest rant to both the NBA and Johnson, who "continues to be dragged into this situation and be degraded by such a malicious and personal attack."
G/O Media may get a commission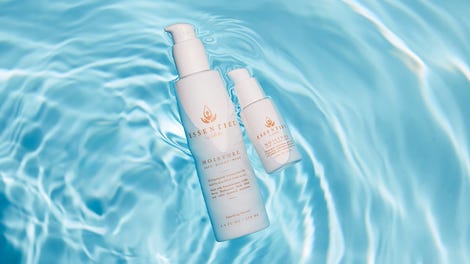 20% off
Essentiel by Adele
When Sterling wasn't bashing Johnson during the Cooper interview, he blamed V. Stiviano, the woman whose voice can be heard questioning Sterling on the recordings, for baiting him into using derogatory language about blacks. 
"She would always use the word 'black,' " Sterling said of Stiviano. " 'That's a black girl, that's a black guy, this is black, that's black.' So when she said to me, 'I'm going to bring four gorgeous black guys to the game,' players she was referring to either football or basketball, I was a little jealous maybe.
"I used her words," Sterling said later, adding, "I don't know why the girl had me say those things."
Read more at the Daily News and the Associated Press.