Earlier this week, Atlanta police received a call about a "domestic dispute" between singer and reality-TV star Tamar Braxton and her husband, Vincent Herbert. Few details are confirmed, but according to the audio of a 911 call that was made publicly available thanks to TMZ, the pair were at the Ritz-Carlton when an argument escalated to Herbert biting his wife's finger. By the time the police were contacted, Herbert had fled the location in a cab.
Jabari Banks On A Potential Bel-Air Musical, Fresh Prince Cameos, & A Game of 'Which Aunt Viv?'
Since the incident, the pair has been spotted holding hands while walking through the Los Angeles Airport.
Speculation has run rampant as to the cause of the argument—which, let's face it, we'll never know the real truth about, unless reality-TV cameras for Tamar & Vince were rolling and the footage is aired unedited. Current rumors suggest that the dispute may have been over Braxton's recent decision to take on a new manager, who is replacing her husband. But who knows what the argument was over, and really, why does it matter?
The bottom line is that the argument was severe, Herbert bit his wife and the police were called. This is not a normal couples' spat. Still, there have been giggles across social media about Herbert's bizarre action, which sounds right out of the Mike Tyson textbook for crazy. Gossip site Straight From the A joked that Herbert, a plus-size man, was hungry. This is no laughing matter. I mean, the police were called. This isn't funny. This. Is. Not. OK.
G/O Media may get a commission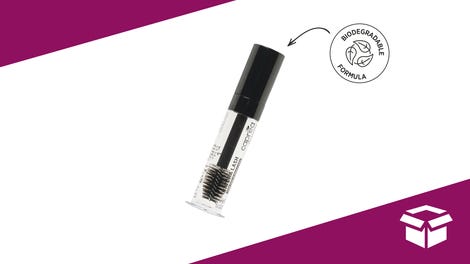 It's $8
20% Off Lash + Eyebrow Serum 2.0 - Caprea Beauty
According to the National Coalition Against Domestic Violence (pdf), approximately 1.3 million American women are the victims of domestic violence each year. Black women have the highest rates of intraracial violence of any group. Domestic and intimate-partner violence is one of the leading causes of death for black women ages 15 to 35. And yet black women are also less likely to report abuse or seek help.
Despite those harrowing statistics, the incident between Braxton and Herbert has been brushed aside as a desperate publicity stunt to drum up interest in a yet-to-be-renewed sixth season of Braxton and Herbert's reality series. But even among those who take the 911 call and allegations of a dispute seriously, there have been some troubling responses, notably that this is just a standard married argument—uh, no—or, perhaps worse, jumping to the conclusion that Braxton deserved what happened to her.
A selection of responses found in the blogger B. Scott's comments section:
We've heard these arguments before, both when reality star Evelyn Lozada was head-butted by her then-husband Chad Johnson and when Rihanna was viciously beaten by Chris Brown. Like Braxton, Lozada and Rihanna are opinionated, expressive women with razor-sharp wit. But let's not go wild and begin subscribing to the egregious Stephen A. Smith school of thought that the women are to blame for being attacked because they provoked their partners to violence. (Smith later apologized for saying that.)
As a culture, we have problems with outspoken women. They're deemed emasculating, argumentative and arrogant. And as the responses above reiterate, some folk haven't evolved beyond the Shahrazad Ali line of thinking from the '80s that "slapping a woman in the mouth" is an acceptable response to disrespectful behavior.
Uh, no. Again.
We don't know all that happened between Braxton and Herbert, just that their dispute escalated to police involvement and he bit her. A. Man. Bit. His. Wife. That isn't funny, it isn't normal for any couple, no matter their relationship status, and it's definitely not acceptable. And there is nothing Braxton could have said or done to justify it. Period.
Demetria Lucas D'Oyley is a contributing editor at The Root, a life coach and the author of Don't Waste Your Pretty: The Go-to Guide for Making Smarter Decisions in Life & Love as well as A Belle in Brooklyn: The Go-to Girl for Advice on Living Your Best Single Life. She is also a blogger at SeeSomeWorld.com, where she covers pop culture and travel. Follow her on Twitter and Instagram.