So, remember last week when Fox News host Sean Hannity went all wild about the Michael Cohen raids, calling them a "witch hunt" and saying that special counsel Robert Mueller was "out to get the president"?
Well, as it turns out, Hannity may have had a very specific reason for his ire.
In a New York City courtroom Monday, it was revealed that Hannity is also a client of Cohen, the longtime Donald Trump attorney and fixer, the New York Times reports.
Cohen's lawyers reportedly had to be forced by the judge to name Hannity, according to the Daily News. They argued that the client did not want his name to be made public.
According to the Daily News, Hannity went on his radio show Monday afternoon to claim that his relationship with Cohen was no big deal, but obviously it was if the lawyers were trying so hard to keep him from being named.
G/O Media may get a commission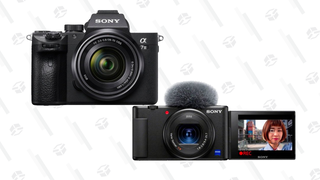 Cyber Monday Deals
Sony Camera Sale
It also makes the way Hannity goes so hard for the president look very funny in the light.
The Hannity tidbit is not the only crazy news to come out about Cohen in the last few days.
Over the weekend, the Wall Street Journal reported that Cohen successfully stopped Us Weekly in 2013 from reporting about Donald Trump Jr.'s alleged affair with Celebrity Apprentice contestant Aubrey O'Day.
According to the report, Cohen called the magazine and went all New York mob lawyer on some of the staffers, threatening legal action if the story ever saw the light of day.
"We were all on speakerphone and huddled around the phone," one person told the Journal. "He was just one of these New York characters where he was just, like, swearing at us and totally over-the-top threatening."
Michael Cohen is basically the Tom Hagen of this illegal administration, and he is doing the most for the least.
How do you have the world's dumbest people as your clients? How do you dig them out of one mess just for them to get themselves into another?
You went to law school for this?